Roof Repair You Can Trust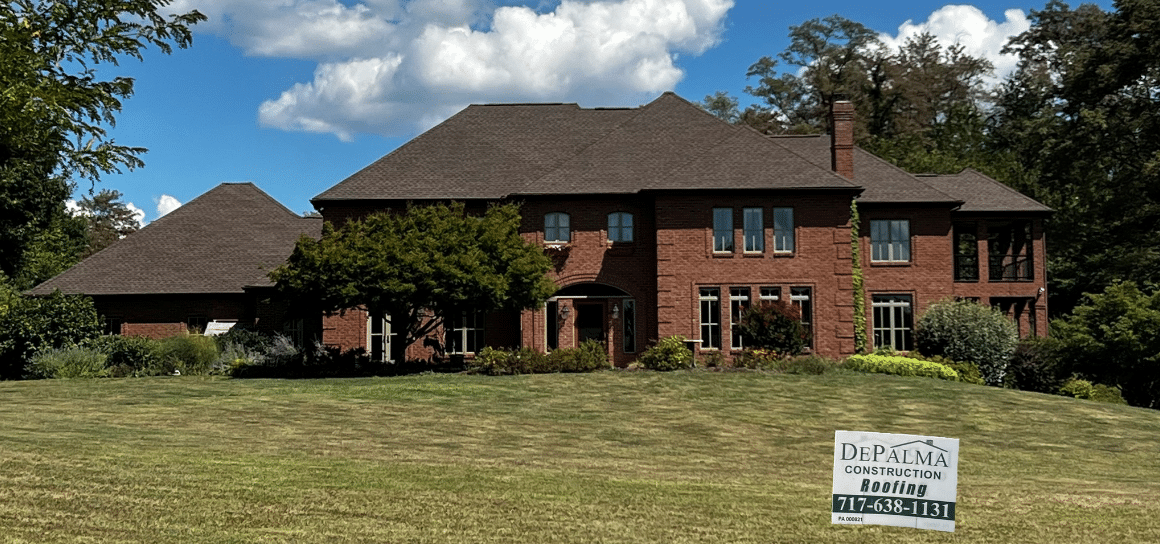 Your Premier Roofing Experts in Camp Hill, PA
For superior roofing solutions in Camp Hill, PA, look no further than DePalma Roofing & Construction, the definitive leader in the field. Our rich and sustained history in roofing highlights our steadfast devotion to exceptional quality and unmatched customer care. Our team, composed of seasoned professionals, excels in managing both residential and commercial roofing projects, proficiently navigating everything from simple repairs to comprehensive renovations.
Through the years, we've earned our esteemed reputation within the Camp Hill community through our relentless pursuit of excellence and our deep-seated commitment to our clients. With DePalma Roofing & Construction, you can rest easy knowing that we conduct our business with full licensing and insurance. From tackling leaks and contemplating shingle upgrades to installing new skylights, we guarantee precision, efficiency, and unparalleled expertise at every juncture.
We recognize that each roofing project presents its unique set of challenges and details. That's why, at DePalma Roofing & Construction, we prioritize understanding your specific needs, tailoring our approach to yield results that seamlessly align with your vision. Guided by our fundamental principles of superior quality, affordability, and customer satisfaction, our services are designed to not only meet, but surpass your expectations.
Choosing DePalma Roofing & Construction means entrusting your roofing needs to the epitome of reliability and professionalism in Camp Hill, PA. Reach out to us today to explore our exceptional roofing services or to request a complimentary, no-obligation quote. Our unwavering commitment ensures that you experience the pinnacle of service for all your roofing needs.
GAF Top President's Club Roofer
Unparalleled Roofing Mastery in Camp Hill, PA
In the heart of Camp Hill, PA's roofing landscape, DePalma Roofing & Construction shines as a paragon of distinction. Servicing an expansive spectrum of requirements, we excel in delivering residential and commercial roofing solutions. Our experienced crew is committed to not only fortifying your property against nature's whims but also elevating its visual appeal. Explore the breadth of expertise we bring to the table:
Shingle Roof Installation
DePalma Roofing & Construction stands out as a top-tier provider of shingle roofing solutions in Camp Hill, PA. Our prowess encompasses a diverse range of shingle varieties, from traditional asphalt and wood to refined tile options and beyond.
Each project commences with an in-depth review of your roof's current status. This methodical inspection provides insights into its health and flags any groundwork necessary before shingle placement. Our meticulous attention to detail guarantees perfect shingle alignment, resulting in a sturdy, long-lasting roof.
Benefitting from years of hands-on experience, we've honed our methods to be both swift and minimally intrusive. Ever devoted to unmatched standards, we conclude each venture with a thorough clean-up, ensuring your property remains pristine, now topped with an exceptional roof.
Roof Repair
The fluctuating weather patterns of Camp Hill can sometimes throw a curveball, leading to unforeseen roofing complications. With DePalma Roofing & Construction, rest assured we're always on standby, prepared to address any roofing setbacks you may face. Whether it's a minor leak or significant storm-induced damages, our team is equipped and eager to assist.
Every assignment begins with an exhaustive inspection, identifying the extent of damage and ensuring no underlying issues go unnoticed. Post-inspection, we engage in transparent communication, discussing our observations and recommending the most effective repair solutions, ensuring you're in the loop throughout.
Leveraging years of experience and premium-grade resources, our skilled crew is dedicated to revitalizing your roof to its optimal state. Recognizing the vital nature of roof repairs, we employ a swift yet comprehensive method, merging lasting strength with unparalleled artistry.
Gutter Installation
A well-fitted gutter system is essential in shielding your property from potential water-related hazards. In Camp Hill, PA, DePalma Roofing & Construction emerges as the gold standard, presenting tailor-made gutter solutions that harmonize with the region's unique architectural designs.
Understanding that every home presents its individual challenges, we boast a versatile assortment of gutter designs and materials to accommodate distinct stylistic and practical preferences. Whether you're drawn to the modern touch of seamless aluminum or the timeless elegance of copper gutters, trust in our skilled team to handle installation with precision.
Beyond merely directing rainwater, a strategically installed gutter system is instrumental in extending the longevity of your roof and the exterior of your home. Recognizing its significance, our methodology is comprehensive. We factor in Camp Hill's specific weather patterns, your roof's slope, and your property's overall footprint. Such meticulous consideration guarantees not only aesthetically pleasing gutters but also a system that excels in safeguarding your property against water damage.
With DePalma Roofing & Construction, superior quality isn't an aspiration—it's our baseline. From handpicking top-tier materials to maintaining rigorous installation guidelines, quality remains at the forefront. By entrusting your gutter requirements to us in Camp Hill, you're selecting lasting resilience, beauty, and utmost peace of mind.
Commercial Roofing
Camp Hill businesses seeking superior commercial roofing services frequently rely on DePalma Roofing & Construction. Our offerings go beyond the basics of installations and fixes, delving deeper into regular assessments, diligent maintenance, and swift interventions when time is of the essence.
Understanding the specific challenges posed by commercial roofs, which can vary vastly from residential ones, our adept team is proficient in handling a range of roof designs, from levelled systems to those with a subtle gradient. With extensive knowledge in materials such as EPDM and TPO, we ensure that your commercial facility remains well-equipped to withstand Camp Hill's distinct weather conditions, acting as an unwavering guard.
The hallmark of our commercial roofing solutions lies in our unwavering commitment. Our proactive inspection routines are designed to spot and rectify potential vulnerabilities early on. Our proactive stance on regular upkeep aims to curb small issues before they burgeon into substantial challenges. And when the call for repairs arises, our nimble team focuses on curtailing any interference to your business activities while fortifying the resilience and efficacy of your roof.
For top-tier commercial roofing in Camp Hill, make DePalma Roofing & Construction your trusted ally.
Roof Inspection, Maintenance, and Replacement
In Camp Hill, PA, DePalma Roofing & Construction shines as the epitome of holistic roofing solutions, delivering meticulous inspections, proactive maintenance, and, when necessary, full-scale roof replacements. Our mission is to furnish a seamless roofing journey that enhances your roof's longevity while ensuring optimal value over its lifecycle.
Consistent monitoring and regular upkeep serve as the linchpins in recognizing and remedying nascent challenges before they morph into substantial concerns. Our skilled team meticulously assesses every facet of your roof, identifying any signs of aging or potential vulnerabilities. By adopting this foresighted approach, we endeavor to fortify your roof's resilience and overall integrity.
When the moment comes for a comprehensive roof makeover, we understand it's a pivotal decision for Camp Hill residents. That's why our seasoned specialists are with you at every juncture, offering their insights and guiding you through the myriad of options pertaining to materials that align with both your design preferences and budgetary constraints. As we embark on the installation, our goal remains steadfast: to sculpt a roof that's not just visually appealing but also robustly equipped to handle Camp Hill's varied weather conditions.
Why Camp Hill Chooses DePalma Roofing & Construction as Their Top Roofing Specialist
Selecting a roofing partner isn't just about skill—it's about fostering trust and ensuring unwavering reliability. This is where DePalma Roofing & Construction stands out in Camp Hill.
Track Record of Excellence
Our longstanding history of serving Camp Hill and surrounding areas speaks volumes about our proficiency. We've refined our craft by understanding the distinct weather patterns and architectural nuances that shape Camp Hill's roofs.
Unwavering Standards
Every project we embark on is a pursuit of unparalleled quality. From premium materials to state-of-the-art techniques, we ensure all our undertakings align with our high benchmarks.
Skilled Craftsmanship
At our core is an exceptional team, cultivated through intensive training and rich field experience. Their precision combined with creative artistry results in solutions that are both lasting and visually striking.
Client-Centric Approach
Our patrons remain at the heart of what we do. Through transparent dialogue and unmatched service, we guide you through each step, ensuring clarity and addressing any queries or reservations.
Esteemed Recognition
Our consistent pursuit of perfection has established our distinct footprint in the roofing sector. The continual appreciation from our contented customers is a testament to our commitment: crafting durable, premium roofing outcomes.
Community Involvement
Beyond our professional services, we are an integral facet of the Camp Hill fabric. Our active engagement with local endeavors underscores our dedication, further cementing our reputation as a trusted community partner.
By opting for DePalma Roofing & Construction, you're placing your roofing projects in the hands of a competent, devoted, and community-focused expert in Camp Hill, PA. Discover the DePalma distinction—reach out today and let us redefine your roofing experience with our unmatched offerings.
Perks of Collaborating with a Camp Hill Roofing Maven
By choosing DePalma Roofing & Construction, a leading local roofing expert based in Camp Hill, PA, you unlock a multitude of advantages stemming from our deep-rooted knowledge of the Camp Hill landscape and its unique architectural nuances. Our tenure in the Camp Hill vicinity has equipped us with invaluable knowledge of the area's distinct weather patterns, from intense heatwaves in the summer to sudden tempestuous downpours. This unparalleled local expertise allows us to prescribe roofing solutions tailor-made for Camp Hill's environment, guaranteeing optimal protection for your property.
Furthermore, our central location in Camp Hill assures immediate availability and accessibility. Whether you're grappling with a sudden roofing crisis after inclement weather or in need of regular maintenance, our crew is geared up to assist you promptly. Such quick interventions not only mitigate potential damage escalation but also offer prompt solutions, fostering peace of mind among our clients.
Selecting DePalma Roofing & Construction goes beyond exceptional roofing services; it's a gesture of endorsing local businesses and invigorating the Camp Hill community. We are more than just a commercial enterprise; we are an integral part of the Camp Hill fabric, deeply devoted to its advancement and well-being. Our vision encompasses more than just roofing excellence; it aspires to a holistic upliftment and enrichment of the Camp Hill we hold dear.
In essence, when you align with us, you're not only receiving expert roofing services but also infusing a sense of communal solidarity, amplified by skill and an unwavering commitment to Camp Hill's promising future.
Boro of Camp Hill
Carlisle Pike
Country Hill
Cumberland – Essex
Erford Rd
Floribunda
Green Lane
Highland Gardens
Highland Park
Keewaydin
Lower Allen
Mandy Lane
New Cumberland
Pine Brook
Rossmoyne Manor
Rupp
Simpson Ferry Rd
West Camp Hill
West Creek Hills
Willow Park-Camp Hill
Wormleysburg – Heights
Connect with Camp Hill's Premier Roofing Specialist
For comprehensive roofing solutions in Camp Hill and the surrounding regions, turn to DePalma Roofing & Construction. Whether it's a brand-new roof installation, urgent leak resolution, or routine maintenance, our highly skilled team is on hand to offer their expertise, customizing solutions to fit your needs. Recognizing that each roofing concern is unique, we are dedicated to providing strategies meticulously crafted for your individual requirements.
Our wide array of roofing services demonstrates our capability to handle both residential and commercial projects, regardless of their scale. We welcome you to engage with us, delving into the specifics of your desired project. Our approachable team is eager to assist with any queries you may have and to present a comprehensive quote. Opt for DePalma Roofing & Construction, the leading local roofing expert in Camp Hill, to experience unparalleled quality and dependability.
10 or 25 YEAR 'PEACE OF MIND' WORKMANSHIP GUARANTEE
With every roof we install you are covered by GAF's 10 or 25 year workmanship guarantee. That means if a shingle cap blows off in a windstorm, or a leak forms, or anything roof related for that matter – we will promptly replace and/or repair the problem at no cost to you.