Roof Repair You Can Trust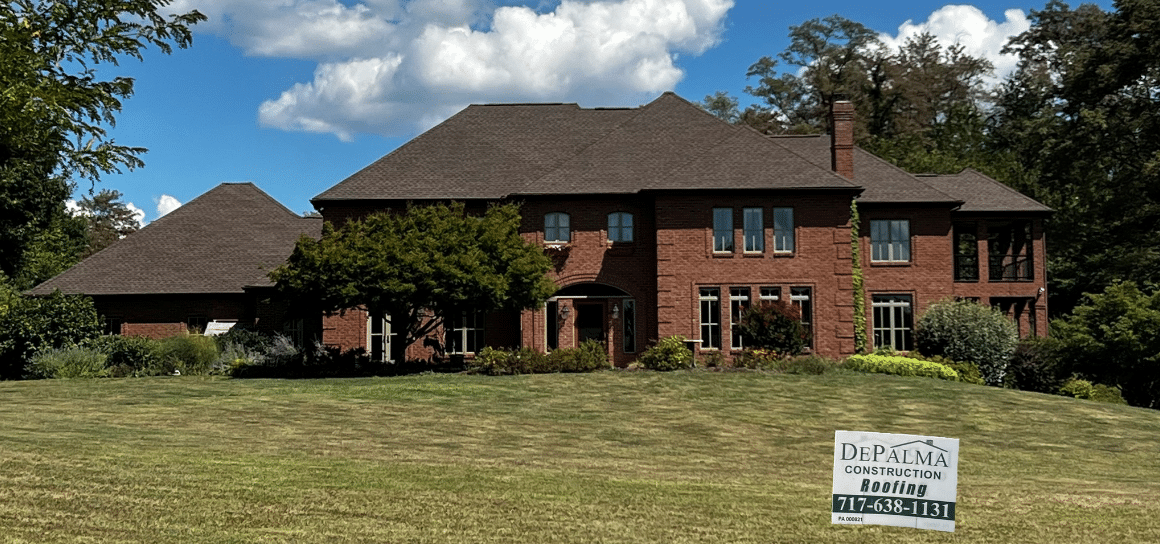 Dillsburg's Trusted Choice in Roofing Services
For top-tier roofing solutions in Dillsburg, PA, DePalma Roofing & Construction stands peerless. Our storied legacy in the roofing arena underlines our unwavering commitment to unparalleled craftsmanship and exemplary client service. Our squad, enriched with seasoned experts, adeptly handles both residential and commercial roofing ventures, skillfully addressing everything from minor fixes to full-scale transformations.
Over time, our dedication and expertise have solidified our sterling reputation within the Dillsburg community. At DePalma Roofing & Construction, we operate with complete licensure and insurance, ensuring that from managing unexpected leaks to contemplating the installation of contemporary skylights, our offerings exude accuracy, swift execution, and unmatched prowess.
We understand that every roofing task comes with its individual nuances. Therefore, we make it our mission to grasp your distinct requirements, refining our approach to produce outcomes that perfectly echo your aspirations. Anchored by our core values of elite quality, cost-effectiveness, and client-centricity, our services aim not just to satisfy, but to exceed your anticipations.
Opting for DePalma Roofing & Construction signifies placing your roofing concerns in the hands of Dillsburg's most trusted and adept professionals. Engage with us today to delve into our exceptional roofing repertoire or to obtain a free, no-strings-attached estimate. Our steadfast dedication ensures you relish the zenith of service for all your roofing endeavors.
GAF Top President's Club Roofer
Roofing Excellence in Dillsburg, PA
Nestled within Dillsburg's roofing scene, DePalma Roofing & Construction emerges as a beacon of unparalleled expertise. Catering to a broad array of needs, we specialize in providing both residential and commercial roofing services. Our seasoned team is not just focused on safeguarding your property from the elements, but also on enhancing its aesthetic charm. Here's a glimpse of the wide-ranging proficiency we offer:
Shingle Roof Installation
In Dillsburg, PA, DePalma Roofing & Construction is recognized as a leading connoisseur in shingle roofing solutions. Our expertise spans an extensive selection of shingle types, from classic asphalt and wooden shingles to the more sophisticated tile variants and more.
Our approach to any project begins with a thorough evaluation of the current state of your roof. This comprehensive assessment provides a clear understanding of its condition and identifies any preparatory work required prior to shingle installation. Our keen eye for precision ensures each shingle is perfectly positioned, culminating in a durable and appealing roof.
With a rich background of practical experience, our techniques are fine-tuned to be both efficient and non-disruptive. Staying true to our commitment to excellence, we wrap up every task with a meticulous cleanup, leaving your property looking impeccable and crowned with a top-notch roof.
Roof Repair
Dillsburg's unpredictable climate can occasionally present challenges, resulting in unexpected roofing issues. At DePalma Roofing & Construction, we stand ready to tackle these unforeseen disturbances head-on. Be it a slight seepage or extensive weather-related damages, our team is primed and passionate about bringing solutions.
Our approach is anchored in a thorough assessment, pinpointing the exact damage and ensuring that no hidden troubles are overlooked. After our assessment, we prioritize open dialogue, sharing our findings and suggesting the best avenues for repair, keeping you informed every step of the way.
Benefiting from our wealth of experience and top-tier materials, our adept team is committed to restoring your roof to its pristine condition. Given the crucial role of roofs, we adopt a prompt yet detailed strategy, combining enduring resilience with unmatched craftsmanship.
Gutter Installation
In the ever-changing climate of Dillsburg, PA, a robust gutter system plays a pivotal role in guarding your home against the perils of water damage. At DePalma Roofing & Construction, we set the benchmark high, offering customized gutter solutions that resonate with Dillsburg's distinct architectural nuances.
Recognizing that each property brings its unique set of demands, we provide a vast selection of gutter styles and materials to match varying design and functional needs. Whether you're captivated by the sleek aesthetics of seamless aluminum or the classic allure of copper gutters, rely on our adept team for flawless installations.
More than just a conduit for rainwater, a thoughtfully integrated gutter system contributes significantly to prolonging the life of both your roof and home's facade. Given its vital role, we employ a holistic approach in our installations. This entails taking into account Dillsburg's characteristic weather tendencies, the gradient of your roof, and the total layout of your home. This detailed focus ensures that you not only receive gutters that enhance your property's appearance but also a setup engineered to offer maximum protection against potential water threats.
Choosing DePalma Roofing & Construction means aligning with excellence. From our rigorous selection of premium materials to our stringent installation protocols, we never compromise on quality. By choosing us for your gutter needs in Dillsburg, you're assured of enduring functionality, aesthetic brilliance, and complete peace of mind.
Commercial Roofing
Dillsburg enterprises in search of exceptional commercial roofing solutions consistently turn to DePalma Roofing & Construction. We offer a holistic suite of services that extends beyond mere installations and repairs, encompassing preventative assessments, meticulous maintenance, and rapid response during critical situations.
Acknowledging the intricacies associated with commercial roofing—which often diverges significantly from residential counterparts—our seasoned crew is adept at managing a myriad of roof structures, be they flat systems or those with nuanced inclinations. Armed with expertise in materials like EPDM and TPO, we guarantee that your commercial establishment remains fortified against Dillsburg's characteristic climatic fluctuations, standing tall as a steadfast shield.
Our commercial roofing prowess is underscored by an unwavering dedication to excellence. Our initiative to conduct routine inspections is geared towards early identification and mitigation of potential weak spots. This forward-thinking approach to maintenance is aimed at nipping minor concerns in the bud, preventing them from escalating into major predicaments. And, in instances where urgent repairs become necessary, our agile squad ensures minimal disruptions to your operations, all while reinforcing the strength and efficiency of your roofing system.
For unparalleled commercial roofing in Dillsburg, let DePalma Roofing & Construction be your go-to partner.
Roof Inspection, Maintenance, and Replacement
In Dillsburg, PA, DePalma Roofing & Construction stands out as the beacon for comprehensive roofing services, encompassing thorough inspections, regular maintenance, and, when deemed essential, total roof overhauls. Our primary objective is to facilitate a smooth roofing experience that augments the lifespan of your roof, ensuring you garner maximum value throughout its tenure.
Regular evaluations and diligent care are the keystones of our approach, allowing us to detect and address budding issues before they escalate into significant problems. Our adept crew delves into each aspect of your roof, pinpointing any wear or areas of potential risk. With this proactive stance, we are committed to enhancing your roof's durability and preserving its integrity.
When the need arises for an extensive roof transformation, we recognize the weight of such a decision for Dillsburg homeowners. Hence, our experienced professionals walk alongside you at each step, sharing their expertise and assisting you in navigating the plethora of material choices that resonate with your aesthetic desires and financial considerations. As the installation process unfolds, our unwavering aspiration is to craft a roof that is not only visually captivating but also staunchly prepared to weather Dillsburg's diverse climatic patterns.
The Top Choice for Roofing Excellence in Dillsburg
Selecting a roofing partner goes beyond skill—it's about cultivating trust and ensuring steadfast reliability. This is what elevates DePalma Roofing & Construction in Dillsburg above the rest.
A Legacy of Expertise
Our enduring service to the Dillsburg area speaks volumes about our mastery in roofing. We've tailored our skills to the specific climatic and architectural characteristics of Dillsburg, offering you an unmatched local expertise.
Uncompromising Quality Standards
Every job we take on is a testament to our commitment to supreme quality. From the materials we choose to the techniques we employ, we settle for nothing less than the best.
Craftsmanship and Precision Unite
At the core of our operation is an extraordinary team, meticulously trained and rich in on-the-job experience. Their artistry and precision result in roofing solutions that are as durable as they are visually appealing.
Client-Centric From Start to Finish
You, the client, are the foundation of our business. With transparent communication and outstanding service, we guide you through each phase of the project, ensuring clarity and addressing any concerns.
A Reputation for Excellence
Our ceaseless commitment to perfection has garnered us an exceptional reputation in the roofing sector. Ongoing endorsements from our satisfied customers serve as a tribute to our dedication to top-notch, long-lasting roofing solutions.
Community Engagement
More than just a business, we're an integral part of the Dillsburg community. Our active role in local initiatives reinforces our dedication and strengthens our reputation as a trusted community associate.
By choosing DePalma Roofing & Construction, you are entrusting your roofing needs to a competent, committed, and community-oriented expert in Dillsburg, PA. Reach out to us today and discover how we can redefine your roofing experience with our unparalleled service offerings.
The Advantage of Partnering with Dillsburg's Premier Roofing Specialist
When you select DePalma Roofing & Construction, Dillsburg's trusted local roofing authority, you're tapping into a myriad of benefits derived from our deep understanding of Dillsburg's topography and architectural heritage. Years of operating in Dillsburg have endowed us with a rich insight into the region's varying weather challenges, from blazing summer days to sudden torrential rainfalls. Such a deep-seated local understanding empowers us to craft roofing solutions that are perfectly adapted to Dillsburg's climate, ensuring your property's ultimate safeguard.
Our strategic positioning in Dillsburg guarantees promptness and ease of access. Whether you're confronting an unexpected roofing issue post a storm or seeking routine check-ups, our team is primed to respond in real-time. Quick responses not only prevent potential problems from worsening but also ensure swift resolution, enhancing peace of mind for our patrons.
Choosing DePalma Roofing & Construction is not just about impeccable roofing; it's a pledge to support local ventures and bolster the Dillsburg community spirit. We aren't just a business entity; we're an embedded part of the Dillsburg tapestry, passionately committed to its progress and prosperity. Our mission extends beyond roofing prowess; we aim for the broader growth and enhancement of the beloved Dillsburg community.
In short, partnering with us means you're not only securing elite roofing expertise but also contributing to community cohesion, fortified by dedication and a steadfast commitment to Dillsburg's bright horizons.
Alpat / Grantham
Beavertown Morari Drive
Berkshire Hills
Campground & Lines Roads
Chadwick Meadows
Chain Saw
Franklin Township
Glenwood Road
Greenbriar East
Holly Hills
Logan Meadows
Logan Run
Ridge Drive Locals
South Mountain Estates
Stoney Run Rd
S York Road
Warrington Township
Whiskey Springs Mountain
Connect with Dillsburg's Top-tier Roofing Expert
For all-inclusive roofing needs in Dillsburg and its neighboring areas, your best choice is DePalma Roofing & Construction. Whether you're venturing into a fresh roof installation, needing immediate attention for a leak, or looking for consistent upkeep, our proficient team stands ready to deliver tailor-made solutions that align with your distinct demands. We understand that every roofing challenge has its specifics, which drives us to devise plans finely-tuned to address your precise concerns.
Our diverse portfolio of roofing services underscores our adeptness at managing both home and business projects, irrespective of their magnitude. We cordially invite you to converse with us, diving deep into your project particulars. Our friendly and knowledgeable crew is primed to address your questions and furnish a detailed estimate. By choosing DePalma Roofing & Construction, Dillsburg's foremost roofing authority, you're securing unmatched excellence and unwavering reliability.
10 or 25 YEAR 'PEACE OF MIND' WORKMANSHIP GUARANTEE
With every roof we install you are covered by GAF's 10 or 25 year workmanship guarantee. That means if a shingle cap blows off in a windstorm, or a leak forms, or anything roof related for that matter – we will promptly replace and/or repair the problem at no cost to you.