Roof Repair You Can Trust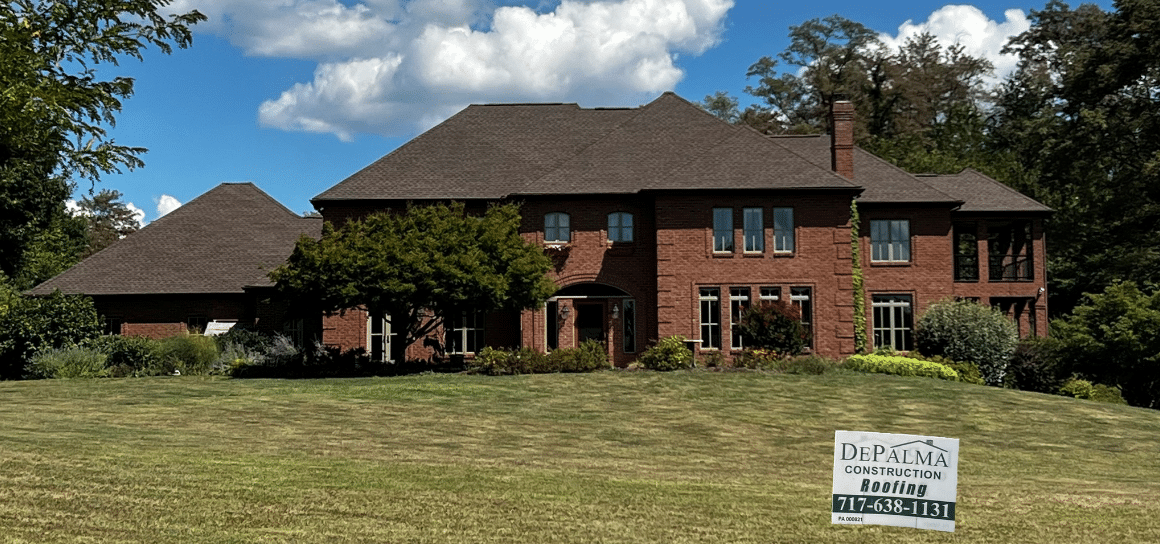 Your Trusted Roofing Contractor in East Berlin, PA
Positioned prominently in the vibrant landscape of East Berlin, PA, DePalma Roofing & Construction stands as a beacon of roofing excellence. Our notable presence in the East Berlin roofing scene is a testament to our unwavering commitment to quality and unparalleled client engagement. As a renowned roofing contractor, we have a team of adept installers at our helm, expertly overseeing both residential and commercial projects, from regular inspections to full-scale renovations.
The esteem we've cultivated within the East Berlin community speaks to our ceaseless pursuit of perfection and our deep-rooted dedication to our valued clients. By entrusting DePalma Roofing & Construction with your roofing needs, you're partnering with a fully licensed and insured contractor proficient in addressing a plethora of roofing concerns—from rectifying unforeseen damages and guiding on material choices to integrating state-of-the-art skylight configurations. We guarantee precision, promptness, and unrivaled expertise at every juncture.
Recognizing the unique nature of every roofing endeavor, our contractor team remains steadfast in its mission to comprehend your specific needs, refining our approach to harmoniously align with your visions. Grounded in unparalleled quality, cost-effectiveness, and client satisfaction, our services are meticulously designed to surpass your roofing expectations.
Selecting DePalma Roofing & Construction in East Berlin, PA signifies your faith in a company and contractor celebrated for their trustworthiness and acumen. Reach out to us today to explore our premier roofing solutions or to obtain a complimentary, no-strings-attached quotation. Our unwavering promise? Delivering unparalleled excellence for all your roofing demands.
GAF Top President's Club Roofer
Premier Roofing Installation in East Berlin, PA
In the diverse roofing landscape of East Berlin, PA, DePalma Roofing & Construction stands as a beacon of unmatched craftsmanship and expertise. As a versatile company, we excel in both commercial and residential roofing projects. Guided by our dedicated team, we aim to not only fortify your property against environmental challenges but also elevate its visual appeal. Dive into the depth of commitment and skill that our company represents:
Shingle Roof Installation
In the vibrant realm of East Berlin's roofing sector, DePalma Roofing & Construction has established itself as a foremost installer of shingle roofs. Our company's mastery encompasses a range of shingle materials, from traditional choices like asphalt and wood to the more refined tile selections.
Prior to embarking on any installation, our contractor undertakes a detailed inspection of your existing roofing structure. This rigorous analysis brings to light its current status and the necessary preparations for installation. With meticulous attention to detail, our installer ensures the perfect placement of every shingle, resulting in a resilient and aesthetically pleasing roof.
Drawing from our extensive industry heritage, we utilize installation methodologies that prioritize efficiency without disrupting your daily routine. Living up to our reputation for stellar service, we conclude each project with a thorough cleanup, presenting you with a pristine space crowned by an outstanding roofing solution.
Roof Repair
East Berlin's unpredictable weather patterns can present unforeseen roofing challenges. However, with DePalma Roofing & Construction, East Berlin's leading roofing contractor, you're always in safe hands. Whether it's minor leak repairs or extensive storm-induced damage, our experienced professionals are ever-ready.
Every repair starts with our team conducting an exhaustive assessment to identify damages, ensuring nothing is overlooked. After the inspection, we emphasize transparent communication, briefing you on our findings and recommended solutions.
Combining our vast experience with top-notch materials, our aim is to rejuvenate your roof. Each repair job is approached with agility and precision, blending enduring strength with superior craftsmanship.
Gutter Installation
In East Berlin, having a sturdy gutter system is vital for protecting your property from potential water damage. DePalma Roofing & Construction, a trusted company in the area, designs tailor-made gutter systems complementing East Berlin's architectural nuances.
Acknowledging the distinctiveness of each property, we offer a variety of gutter options to suit different aesthetic and functional needs. Whether you're inclined towards the polished look of seamless aluminum or the timeless beauty of copper gutters, our skilled installers deliver flawless installations.
More than just diverting rainwater, gutters play a crucial role in enhancing your roof's lifespan and maintaining your property's external charm. Our comprehensive approach considers East Berlin's climatic nuances, roof gradient, and building aesthetics, ensuring both visual charm and functional efficiency.
Choosing DePalma Roofing & Construction means opting for unparalleled quality. We prioritize top-tier materials and adhere to rigorous installation standards.
Commercial Roofing
For top-of-the-line commercial roofing services in East Berlin, businesses turn to DePalma Roofing & Construction. Our extensive services span from new installations and repairs to proactive maintenance and rapid interventions.
Recognizing the unique demands of commercial roofing, our specialized team is adept in various roof styles, from flat designs to slightly pitched ones. With a deep understanding of materials like EPDM and TPO, we ensure your commercial establishment remains shielded against East Berlin's distinct weather challenges.
Our commercial roofing solutions stand out for their proactive approach. We champion periodic inspections and upkeep, identifying and addressing potential issues proactively. If repairs are needed, our team ensures minimal disruption to your operations while reinforcing the roof's resilience.
For mastery in commercial roofing in East Berlin, DePalma Roofing & Construction is the go-to choice.
Roof Inspection, Maintenance, and Replacement
In East Berlin, DePalma Roofing & Construction represents the pinnacle of roofing excellence, delivering meticulous inspections, systematic maintenance, and when needed, comprehensive roof replacements. Our aim? Enhancing your roof's longevity, ensuring unmatched value throughout its lifespan.
Routine checks and timely upkeep are crucial for early detection and correction of emerging issues. Our adept team thoroughly examines your roof, identifying any signs of wear or potential vulnerabilities.
Understanding the significance of a full roof replacement, our experts guide you throughout, aiding in choosing materials that align with your preferences and budget. As we embark on the installation journey, our dedication remains steadfast, presenting a roof that perfectly balances aesthetics with durability, ideally crafted for East Berlin's varied weather conditions.
Why East Berlin Relies on DePalma Roofing & Construction for Outstanding Roofing Services
Choosing a roofing contractor isn't just about technical proficiency; it's about establishing trust and consistent reliability. Embracing these core values, DePalma Roofing & Construction has become the preferred choice for the East Berlin community.
Tradition of Excellence
Our longstanding presence in East Berlin and neighboring regions testifies to our exceptional craftsmanship. By familiarizing ourselves with East Berlin's distinct weather patterns and architectural nuances, we've elevated our roofing expertise to unparalleled heights.
Unwavering Dedication to Quality
Every project we undertake reflects our profound commitment to top-tier standards. Harnessing premium materials and cutting-edge techniques, we guarantee each endeavor aligns with our rigorous quality benchmarks.
Pinnacle of Craftsmanship
At the heart of our company lies a dedicated team, fortified with comprehensive training and vast hands-on experience. Their skill set, combined with innovative craftsmanship, results in both durable and visually appealing roofing solutions.
Devotion to Our Patrons
Our valued clients are the foundation of our operations. We emphasize open communication and impeccable service, ensuring you're seamlessly guided through every step, addressing all queries or concerns.
Prestigious Recognitions
Our undeterred passion for excellence has earned us a revered spot in the roofing industry. Continuous praise from satisfied clients stands as a testament to our commitment: to furnish superior, long-lasting roofing solutions.
Community Involvement
Beyond our professional endeavors, we are an integral part of East Berlin's vibrant community. Our active participation in local endeavors accentuates our dedication, strengthening our position as a trusted community partner.
Opting for DePalma Roofing & Construction means entrusting your roofing needs to a passionate, skilled, and community-centric contractor in East Berlin, PA. Discover the DePalma difference—reach out to us today and elevate your roofing experience with our unmatched proficiency.
Benefits of Collaborating with East Berlin's Trusted Roofing Company
Selecting DePalma Roofing & Construction, the leading roofing contractor in East Berlin, PA, offers you a wealth of benefits derived from our intimate knowledge of East Berlin's distinctive environmental and architectural attributes. Our enduring presence in East Berlin affords us an intricate understanding of the varied weather challenges – from scorching summer heat to relentless rainfalls. Such in-depth local expertise enables us to curate roofing solutions impeccably tailored for East Berlin, ensuring unparalleled safeguarding of your premises.
Furthermore, our strategic positioning in East Berlin assures timely interventions. Be it an unforeseen roofing predicament due to severe weather or regular inspections, our company's seasoned professionals stand ready for immediate action. Quick responses not only thwart escalating issues but also promote efficient solutions, reinforcing our trusted bond with patrons.
Opting for DePalma Roofing & Construction transcends mere roofing excellence; it's a nod to a local entity, nurturing East Berlin's growth. We're more than just a business entity; we're an integral strand in the vibrant tapestry of East Berlin's community, passionately dedicated to its evolution and well-being. Our vision is panoramic, focusing not just on unmatched roofing proficiency but on the holistic enhancement of our cherished East Berlin.
In essence, partnering with us doesn't only secure premier roofing solutions; it also bolsters community ties, anchored in supreme craftsmanship and an unwavering allegiance to East Berlin's bright horizon.
Connect with East Berlin's Premier Roofing Contractor
For comprehensive roofing needs in East Berlin and its surroundings, place your trust in DePalma Roofing & Construction. Whether it's a new roofing endeavor, an urgent repair, or routine maintenance, our expert installers are at your service, formulating solutions meticulously crafted for your requirements. Recognizing the distinct nuances each roofing challenge presents, we pledge to develop strategies harmonized with your individual desires.
Our broad spectrum of roofing services underscores our capability in handling both residential and commercial endeavors, irrespective of scale. We warmly welcome you to converse about the specifics of your impending project. Our affable and knowledgeable crew is eager to address any questions and furnish a detailed estimate. Choose DePalma Roofing & Construction, the pinnacle of roofing companies in East Berlin, and step into a world of unparalleled expertise and reliability.
10 or 25 YEAR 'PEACE OF MIND' WORKMANSHIP GUARANTEE
With every roof we install you are covered by GAF's 10 or 25 year workmanship guarantee. That means if a shingle cap blows off in a windstorm, or a leak forms, or anything roof related for that matter – we will promptly replace and/or repair the problem at no cost to you.