Roof Repair You Can Trust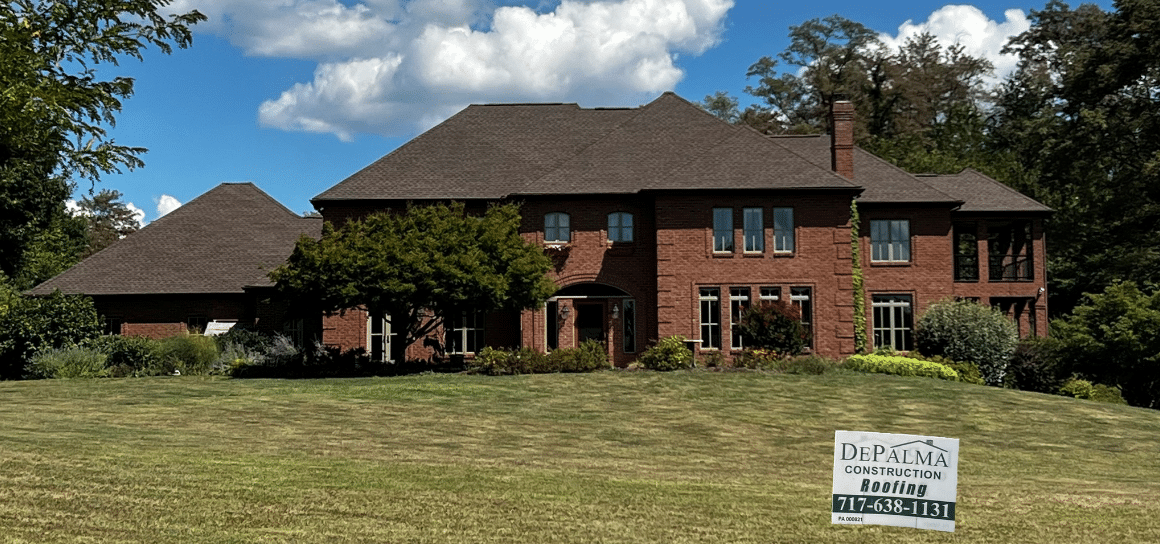 Premier Roofing Contractor in Gettysburg, PA
In the heart of Gettysburg, PA, DePalma Roofing & Construction stands tall as the foremost roofing company. Our enduring footprint in the roofing realm reflects our steadfast commitment to exemplary quality and unparalleled client engagement. Boasting a cadre of expert installers, we proficiently undertake both residential and commercial projects, spanning from routine maintenance to full-scale renovations.
Our esteemed standing within the Gettysburg community bears witness to our relentless pursuit of excellence and our unwavering dedication to our valued clients. When you partner with DePalma Roofing & Construction, you're guaranteed a licensed and insured contractor, adept in managing diverse roofing tasks—be it addressing sudden leaks, guiding through shingle choices, or incorporating modern skylights. Our commitment? Precision, punctuality, and unrivaled industry knowledge at every juncture.
Every roofing project presents its own set of intricacies. Recognizing this, we at DePalma Roofing & Construction pledge to discern your specific needs, shaping our approach to mirror your vision perfectly. Rooted in our principles of impeccable quality, cost-efficiency, and customer satisfaction, our services are meticulously designed to surpass your expectations.
Choosing DePalma Roofing & Construction in Gettysburg, PA signifies entrusting your roofing dreams to a company celebrated for its dependability and mastery. Reach out today to explore our premier roofing services or to obtain a complimentary, obligation-free quote. Our unwavering guarantee? Delivering the pinnacle of service for all your roofing requirements.
GAF Top President's Club Roofer
Renowned Roofing Installation in Gettysburg, PA
Amidst the roofing landscape of Gettysburg, PA, DePalma Roofing & Construction stands as a symbol of unmatched craftsmanship. Serving diverse requirements, we showcase expertise in both residential and commercial roofing projects. Our dedicated team is unwavering in its mission to fortify your property against weather challenges, all while elevating its visual appeal. Explore the expertise and dedication our company brings:
Shingle Roof Installation
In the vibrant roofing community of Gettysburg, PA, DePalma Roofing & Construction is recognized as a top contractor for shingle roof installations. We pride ourselves on our mastery over a variety of shingle materials, from traditional asphalt and timber to the more refined tile variants.
Every project initiation involves a detailed inspection of your current roof. This in-depth analysis provides insights into its status and any necessary preparations before shingle installation. Our contractor ensures that each shingle is meticulously placed, resulting in a resilient and long-lasting roof.
Benefiting from our extensive industry experience, our installation methods are streamlined and considerate of your daily routine. Upholding our dedication to superior service, we conclude every project with a thorough clean-up, ensuring your property remains pristine but is adorned with a superior roofing solution.
Roof Repair
Gettysburg's weather can be unpredictable, leading to unforeseen roofing challenges. But with DePalma Roofing & Construction, a leading contractor in the region, you're always prepared. Whether it's minor leaks or significant storm damage, our experts are at your service.
Every task begins with an exhaustive assessment to identify damages and ensure no hidden problems go unnoticed. After the assessment, we emphasize transparent communication, keeping you updated with our findings and recommended solutions throughout.
With our extensive experience and top-quality materials, our goal is to bring your roof back to its optimal state. We approach each repair with urgency and precision, ensuring lasting solutions combined with unmatched craftsmanship.
Gutter Installation
In Gettysburg, a solid gutter system is essential to safeguard your property from water damage. DePalma Roofing & Construction, a trusted company, delivers custom gutter solutions tailored to Gettysburg's architectural nuances.
Every property is unique, and our diverse gutter offerings cater to various aesthetic and functional needs. Whether it's the modern appeal of seamless aluminum or the timeless beauty of copper gutters, our skilled installers ensure perfection.
Gutters do more than direct rainwater; they play an essential role in extending your roof's lifespan and maintaining your home's exterior beauty. Our comprehensive approach considers Gettysburg's climate, roof gradient, and property layout, ensuring both aesthetics and effectiveness.
By choosing DePalma Roofing & Construction, you're opting for top-tier quality. From premium materials to adherence to rigorous installation standards, we prioritize quality at every turn.
Commercial Roofing
For top-tier commercial roofing solutions in Gettysburg, businesses trust DePalma Roofing & Construction. Our all-inclusive services range from installations and repairs to proactive maintenance and timely interventions.
Given the unique requirements of commercial roofs, our seasoned team specializes in various roofing styles, from flat to gently sloping. With a profound understanding of materials like EPDM and TPO, we ensure your commercial building remains safeguarded against Gettysburg's distinct weather challenges.
Our commercial roofing service stands out for its proactive approach. We emphasize routine inspections and maintenance, addressing potential concerns early on. If repairs are necessary, our team focuses on minimizing disruptions, ensuring business continuity while reinforcing the roof's integrity.
For unparalleled commercial roofing expertise in Gettysburg, DePalma Roofing & Construction remains a reliable partner.
Roof Inspection, Maintenance, and Replacement
DePalma Roofing & Construction is a pinnacle of roofing excellence in Gettysburg, offering meticulous inspections, strategic maintenance, and when required, complete roof replacements. Our aim is to optimize your roof's lifespan, ensuring maximum ROI over its duration.
Routine checks and consistent upkeep are essential, allowing early detection and resolution of potential issues. Our expert team meticulously assesses every inch of your roof, identifying wear or potential vulnerabilities.
Acknowledging the magnitude of a full roof replacement, our professionals guide you throughout, helping you choose materials that align with your preferences and budget. As we embark on the installation, our commitment is unwavering: to provide a roof that blends beauty with resilience, tailored for Gettysburg's varying weather patterns.
Why Gettysburg Chooses DePalma Roofing & Construction for Elite Roofing Services
Selecting a roofing contractor isn't just about technical know-how—it's about establishing trust and guaranteeing unwavering reliability. With these principles, DePalma Roofing & Construction stands as the preferred choice for Gettysburg residents.
A Tradition of Superiority
Our longstanding presence in Gettysburg and surrounding regions speaks to our unparalleled proficiency. By understanding the distinctive weather challenges and architectural nuances of Gettysburg, we've honed our expertise to perfection.
Unwavering Quality Assurance
Every project we take on reflects our relentless pursuit of supreme quality. Using premium materials and advanced techniques, we ensure that each task aligns with our high quality benchmarks.
Mastery in Craftsmanship
At the heart of our company lies an exceptional team, fortified with rigorous training and vast hands-on experience. Their expertise, combined with forward-thinking craftsmanship, results in solutions that are durable and visually appealing.
Dedication to Our Clients
Our valued clients are the foundation of our operations. We emphasize transparent communication and flawless service, ensuring you're guided throughout the project while addressing any queries or concerns.
Distinguished Accolades
Our consistent strive for perfection has solidified our renowned position in the roofing sector. Continuous praises from our contented clients testify to our commitment: to provide superior, lasting roofing outcomes.
Engagement with the Community
Beyond our professional responsibilities, we are an integral part of the Gettysburg community. Our active participation in local endeavors reinforces our dedication, enhancing our reputation as a trustworthy community partner.
By choosing DePalma Roofing & Construction, you're entrusting your roofing projects to a dedicated, skilled, and community-centric contractor in Gettysburg, PA. Discover the DePalma difference—reach out to us today and elevate your roofing experience with our unmatched prowess.
Benefits of Collaborating with Gettysburg's Premier Roofing Contractor
By selecting DePalma Roofing & Construction, the leading roofing contractor in Gettysburg, PA, you're availing yourself of numerous advantages rooted in our deep understanding of Gettysburg's distinctive environmental and architectural characteristics. Our enduring footprint in Gettysburg equips us with comprehensive insights into the region's varied weather patterns—whether it's intense summer heat or heavy downpours. Such local expertise enables us to craft roofing solutions tailored for Gettysburg's conditions, ensuring unparalleled safeguarding of your premises.
Furthermore, our strategic presence in Gettysburg ensures prompt action. Be it an unforeseen roofing crisis brought on by adverse weather or routine maintenance, our company's crew is on standby to assist you immediately. Quick responses not only mitigate potential deterioration but also offer efficient resolutions, cementing a trustful bond with our patrons.
Opting for DePalma Roofing & Construction is not just about top-notch roofing solutions; it's also a vote of confidence in a local business and a contribution to the growth of the Gettysburg community. We're not just a company; we're an integral part of Gettysburg's community tapestry, ardently dedicated to its advancement and well-being. Our ambition stretches beyond mere roofing expertise; we aspire for the holistic development and enhancement of the cherished Gettysburg community.
In essence, when you collaborate with us, you're not only securing elite roofing services but also reinforcing community ties, underpinned by masterful craftsmanship and an unwavering commitment to Gettysburg's bright prospects.
Connect with Gettysburg's Leading Roofing Contractor
When you require comprehensive roofing services in Gettysburg and the surrounding regions, DePalma Roofing & Construction is the company to trust. Whether you're contemplating a new roof installation, urgent leak rectification, or regular upkeep, our skilled installers are poised to provide their expertise, fashioning solutions tailored to your exact requirements. Recognizing that every roofing concern has its particular set of intricacies, our pledge is to create strategies that resonate with your specific desires.
Our diverse suite of roofing solutions emphasizes our adeptness in handling both residential and commercial endeavors, irrespective of their scale. We encourage you to engage in a conversation about the nuances of your impending task. Our approachable and knowledgeable team is eager to field any questions and provide a comprehensive quote. Opt for DePalma Roofing & Construction, the pinnacle of roofing contractors in Gettysburg, and immerse yourself in an arena of unparalleled quality and reliability.
10 or 25 YEAR 'PEACE OF MIND' WORKMANSHIP GUARANTEE
With every roof we install you are covered by GAF's 10 or 25 year workmanship guarantee. That means if a shingle cap blows off in a windstorm, or a leak forms, or anything roof related for that matter – we will promptly replace and/or repair the problem at no cost to you.