Roof Repair You Can Trust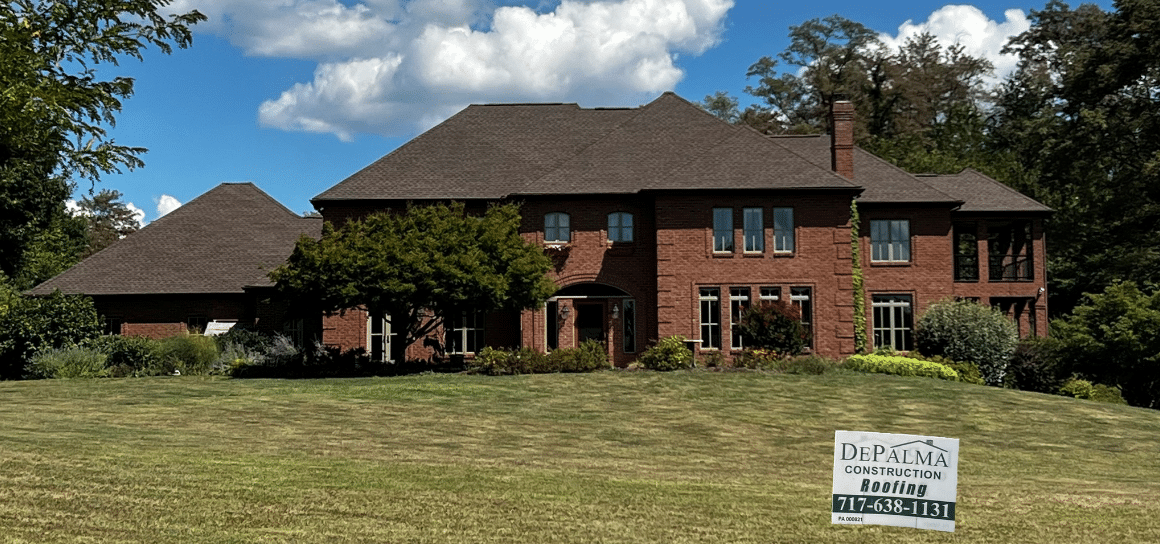 Top-tier Roofing Experts in Goldsboro, PA
When it comes to unmatched roofing expertise in Goldsboro, PA, DePalma Roofing & Construction emerges as the undisputed champion. Our enduring legacy in the roofing industry underlines our unwavering dedication to impeccable quality and superior client relations. Armed with a team of seasoned experts, we adeptly handle both residential and commercial projects, from minor fixes to extensive overhauls.
Our sterling reputation in the Goldsboro community is a testament to our continuous quest for perfection and deep-rooted allegiance to our patrons. With DePalma Roofing & Construction, you can be assured of a fully licensed and insured service, whether it's addressing unexpected leaks, evaluating shingle options, or fitting new skylights. Our promise is a blend of precision, timeliness, and unmatched industry acumen at every step.
At DePalma Roofing & Construction, we comprehend the distinct nuances each roofing endeavor entails. Hence, we dedicate ourselves to grasp your distinct requirements, molding our strategy to realize results that flawlessly resonate with your aspirations. Upheld by our core tenets of unmatched quality, cost-effectiveness, and customer delight, our offerings are crafted to exceed your anticipations.
Opting for DePalma Roofing & Construction in Goldsboro, PA means placing your roofing aspirations in hands renowned for reliability and expertise. Get in touch today to delve into our top-tier roofing solutions or to secure a free, no-commitment estimate. Our steadfast pledge is that you receive the zenith of service tailored for all your roofing desires.
GAF Top President's Club Roofer
Exceptional Roofing Craftsmanship in Goldsboro, PA
Nestled within the roofing milieu of Goldsboro, PA, DePalma Roofing & Construction emerges as a beacon of excellence. Catering to a diverse array of needs, our proficiency spans both residential and commercial roofing endeavors. Our seasoned team dedicates itself to bolstering your property's defense against the elements while simultaneously enhancing its aesthetic allure. Dive into the depth of skill and mastery we offer:
Shingle Roof Installation
In the roofing realm of Goldsboro, PA, DePalma Roofing & Construction emerges as a premier choice for shingle roof installations. We boast proficiency across various shingle types, from classic asphalt and wood to sophisticated tile selections.
Initiating every project, we undertake a comprehensive evaluation of your existing roof. This thorough assessment informs us about its condition and any preparatory measures required before laying shingles. Our impeccable precision ensures that every shingle is perfectly positioned, crafting a durable and enduring roof.
Leveraging our wealth of experience, we've perfected our techniques to be both efficient and unobtrusive. Committed to excellence, we round off each task with a rigorous cleanup, leaving your property untouched but crowned with a top-tier roof.
Roof Repair
Goldsboro's unpredictable weather can sometimes present unexpected roofing challenges. However, with DePalma Roofing & Construction, you're always in safe hands, ready to tackle any roofing hurdles that come your way. From slight leaks to severe storm damage, our team stands ready to serve.
Each task kicks off with a detailed assessment, pinpointing the damage and ensuring no hidden issues are overlooked. After the evaluation, we prioritize open dialogue, sharing our findings and suggesting the most efficient repair strategies, keeping you informed every step of the way.
Drawing on our vast experience and top-tier materials, our adept team is committed to restoring your roof to its prime condition. Understanding the critical nature of roof repairs, we adopt a fast yet thorough approach, combining lasting durability with unmatched craftsmanship.
Gutter Installation
In Goldsboro, PA, ensuring your property has a robust gutter system is crucial to protect against potential water damage. DePalma Roofing & Construction stands out as the premier choice, offering bespoke gutter solutions that align perfectly with Goldsboro's distinct architectural essence.
Recognizing the unique characteristics of every home, our collection of gutter designs and materials is both vast and adaptable, catering to varied aesthetic and functional needs. Whether it's the contemporary allure of seamless aluminum or the classic charm of copper gutters, rely on our expert team for impeccable installation.
More than just channeling rainwater, a well-positioned gutter system plays a pivotal role in prolonging the life of your roof and preserving your home's exterior. With this in mind, our approach is all-encompassing. We consider Goldsboro's specific climatic conditions, the gradient of your roof, and the overall layout of your property. This thorough attention ensures that the gutters aren't just visually appealing but are also highly effective in warding off water-related threats.
Choosing DePalma Roofing & Construction means prioritizing top-notch quality. From selecting the finest materials to adhering to strict installation protocols, we always put quality first. When you partner with us for your gutter needs in Goldsboro, you're choosing durability, elegance, and complete peace of mind.
Commercial Roofing
For premier commercial roofing services in Goldsboro, PA, businesses consistently turn to DePalma Roofing & Construction. Our comprehensive services extend beyond mere installations and repairs, encompassing meticulous evaluations, proactive maintenance, and timely actions when swift response is paramount.
Recognizing the unique demands of commercial roofing, distinct from residential variants, our seasoned team has expertise in managing a plethora of roof types, from flat systems to those with gentle slopes. With a deep understanding of materials like EPDM and TPO, we ensure your commercial establishment remains fortified against Goldsboro's unique climatic challenges, offering unwavering protection.
What sets our commercial roofing services apart is our steadfast dedication. Our forward-thinking inspection routines are crafted to detect and address potential issues early in the game. Our commitment to routine maintenance seeks to nip minor problems in the bud, preventing them from escalating into major concerns. And when repairs become necessary, our agile team prioritizes minimizing disruption to your business operations while bolstering the durability and functionality of your roof.
For unmatched commercial roofing expertise in Goldsboro, DePalma Roofing & Construction is the partner you can rely on.
Roof Inspection, Maintenance, and Replacement
In Goldsboro, PA, DePalma Roofing & Construction stands as a beacon of all-encompassing roofing excellence, providing thorough inspections, forward-thinking maintenance, and when the time comes, complete roof overhauls. Our primary objective is to deliver a smooth roofing experience that maximizes your roof's lifespan and ensures you get the best return on investment throughout its duration.
Regular checks and consistent maintenance are our hallmarks, vital for identifying and addressing budding issues before they escalate into major problems. Our adept team conducts a detailed examination of your roof's entirety, pinpointing signs of wear or potential weak spots. With this proactive stance, we aim to bolster the durability and overall performance of your roof.
Recognizing that a full roof replacement is a significant undertaking for Goldsboro residents, our seasoned experts accompany you every step of the way. They impart their knowledge, assisting you in navigating through the array of material choices that best match your aesthetic desires and financial considerations. As we initiate the installation process, our unwavering commitment is to craft a roof that is not only aesthetically pleasing but also resilient enough to withstand Goldsboro's diverse climatic conditions.
Why Goldsboro Trusts DePalma Roofing & Construction for Premier Roofing Solutions
Choosing a roofing specialist goes beyond mere expertise—it's about building lasting trust and ensuring steadfast dependability. In this respect, DePalma Roofing & Construction emerges as the top choice for Goldsboro residents.
Legacy of Excellence
Our enduring presence in Goldsboro and nearby localities attests to our unmatched expertise. We've fine-tuned our skills by grasping the unique climatic challenges and architectural idiosyncrasies that define Goldsboro's rooftops.
Commitment to Quality
Every endeavor we undertake is driven by a passion for unmatched excellence. Harnessing top-tier materials and cutting-edge methodologies, our projects resonate with our stringent quality standards.
Skilled Craftsmanship
Central to our operation is a stellar team, nurtured through rigorous training and abundant on-ground experience. Their finesse, coupled with innovative craftsmanship, yields solutions that are both enduring and aesthetically captivating.
Client-Centric Approach
Our esteemed clients are the cornerstone of our operations. We maintain open communication lines and impeccable service, guiding you seamlessly through the project and addressing any concerns or questions.
Esteemed Recognition
Our unwavering strive for perfection has carved a distinguished presence in the roofing arena. The ongoing accolades from our satisfied clientele bear witness to our pledge: delivering superior, long-lasting roofing results.
Community Involvement
Beyond our professional scope, we're woven into the Goldsboro community tapestry. Our hands-on involvement in local initiatives accentuates our commitment, bolstering our status as a reliable community ally.
By aligning with DePalma Roofing & Construction, you're entrusting your roofing endeavors to a skilled, passionate, and community-oriented professional in Goldsboro, PA. Experience the DePalma difference—connect with us today and let us elevate your roofing journey with our unparalleled expertise.
Advantages of Partnering with Goldsboro's Roofing Authority
Choosing DePalma Roofing & Construction, the go-to roofing specialist in Goldsboro, PA, affords you a wealth of benefits grounded in our intimate understanding of Goldsboro's unique environmental and architectural elements. Our longstanding presence in Goldsboro has armed us with in-depth knowledge of the area's diverse weather conditions—be it sweltering summer heat or torrential rainfall. This local savvy empowers us to offer roofing solutions specifically engineered for Goldsboro's climate, delivering unmatched protection for your property.
Moreover, our prime location in Goldsboro guarantees immediate responsiveness. Whether you're dealing with a sudden roofing emergency due to severe weather or seeking routine upkeep, our team is ready to serve you without delay. Such swift actions not only curb further damage but also provide timely solutions, reinforcing a sense of security among our clientele.
Choosing DePalma Roofing & Construction extends beyond exceptional roofing solutions; it's also an endorsement of local enterprise and a boost for the Goldsboro community. We aren't merely a business; we're an essential thread in the social fabric of Goldsboro, fully committed to its progress and prosperity. Our vision transcends roofing prowess; it aims for the broader betterment and enrichment of the Goldsboro community we cherish.
In summary, when you align with us, you're gaining more than top-tier roofing services; you're also strengthening community bonds, fortified by skillful craftsmanship and an unwavering dedication to Goldsboro's bright future.
Connect with Goldsboro's Foremost Roofing Expert
For all-encompassing roofing services in Goldsboro and its neighboring areas, look no further than DePalma Roofing & Construction. Be it a fresh roof installation, emergency leak repair, or consistent maintenance, our adept team stands ready to share their insights, tailoring solutions to match your specifications. Acknowledging that every roofing challenge presents its unique nuances, our commitment lies in devising strategies perfectly aligned with your distinct needs.
Our expansive range of roofing offerings underscores our proficiency in managing both residential and commercial tasks, no matter their magnitude. We invite you to delve into a discussion about your upcoming project's details. Our accessible and friendly team is primed to address any inquiries and to furnish a detailed estimate. Choose DePalma Roofing & Construction, Goldsboro's premier roofing authority, and step into a world of unmatched excellence and trustworthiness.
10 or 25 YEAR 'PEACE OF MIND' WORKMANSHIP GUARANTEE
With every roof we install you are covered by GAF's 10 or 25 year workmanship guarantee. That means if a shingle cap blows off in a windstorm, or a leak forms, or anything roof related for that matter – we will promptly replace and/or repair the problem at no cost to you.