Roof Repair You Can Trust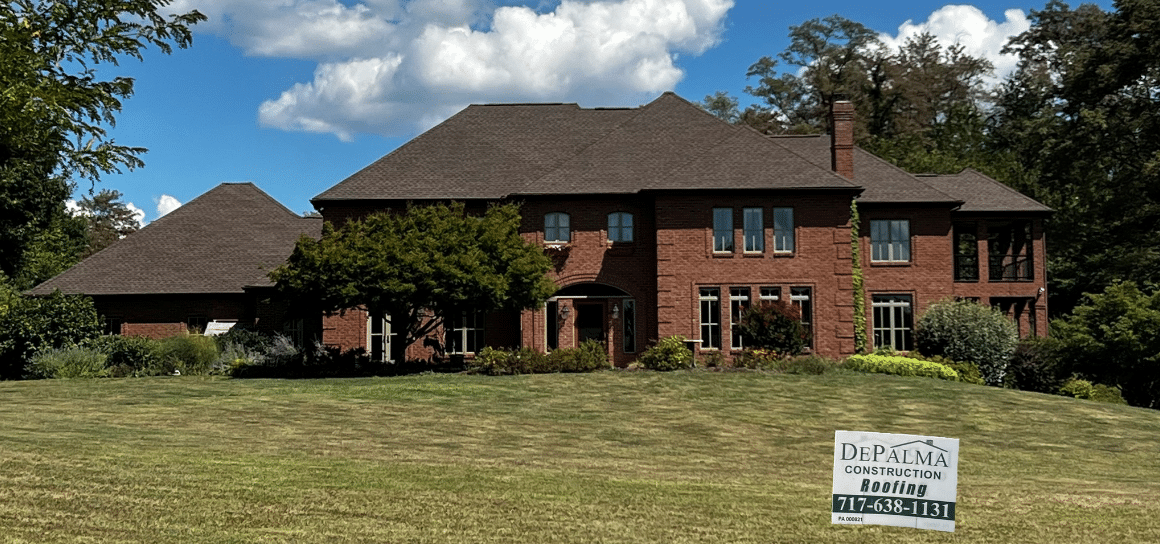 Your Leading Roofing Specialist in Hanover, PA
For unparalleled roofing services in Hanover, PA, DePalma Roofing & Construction emerges as the foremost choice. Our longstanding legacy in roofing underscores our unwavering commitment to exceptional craftsmanship and unrivaled client service. Comprising veteran professionals, our squad is adept at handling both residential and commercial roofing ventures, allowing us to address everything from minor repairs to complete overhauls.
Throughout the years, our distinguished stature within the Hanover community has been forged by our continuous dedication to excellence and our unwavering commitment to our clients. With DePalma Roofing & Construction, peace of mind is a given, as we operate with comprehensive licensing and insurance. Whether you're contending with leaks, considering shingle replacement, or pondering the introduction of new skylights, our crew guarantees precision, speed, and unmatched expertise every step of the way.
We understand that each roofing endeavor carries its distinct challenges and intricacies. That's why at DePalma Roofing & Construction, we're committed to grasping your individual requirements, adjusting our strategies to deliver results that perfectly align with your aspirations. Anchored by our core tenets of excellence, cost-effectiveness, and customer satisfaction, our solutions aim to exceed, not just meet, your expectations.
Choosing DePalma Roofing & Construction is synonymous with opting for unmatched reliability and professionalism in Hanover, PA. Contact us today to delve deeper into our top-tier roofing offerings or to request a complimentary, obligation-free quote. Our steadfast dedication ensures you receive the zenith of service for all your roofing endeavors.
GAF Top President's Club Roofer
Comprehensive Roofing Expertise in Hanover, PA
In the realm of roofing services within Hanover, PA, DePalma Roofing & Construction stands as a beacon of excellence. Catering to a diverse array of needs, we specialize in both residential and commercial roofing solutions. Our seasoned team is dedicated to ensuring your property is not only safeguarded against the elements but also boasts an aesthetic enhancement that sets it apart. Dive into the depth of proficiency we offer:
Shingle Roof Installation
DePalma Roofing & Construction prides itself on delivering exemplary shingle roofing installations in Hanover, PA. Our expertise stretches across various shingle types, from classic asphalt and rustic wood to elegant tile and more.
Each undertaking begins with a detailed assessment of the existing roof infrastructure. This careful evaluation helps us understand the current condition and identify any preparatory work needed before laying down the shingles. Our dedication to exactitude ensures that every shingle sits just right, culminating in a robust and resilient roofing system.
Through our expansive experience, we've refined our techniques to be remarkably efficient while minimizing disruption. True to our commitment to excellence, we wrap up each project with a rigorous cleanup, leaving your property impeccable—with the added bonus of a superior roof overhead.
Roof Repair
Hanover's unpredictable weather can occasionally bring about unexpected roof challenges. At DePalma Roofing & Construction, we stand at the ready, poised to tackle any roofing dilemmas you might encounter. From minor drips to substantial weather-related impairments, our team is primed and prepared.
We commence each job with a thorough assessment, pinpointing all affected regions and making sure no hidden issues lurk beneath. After our evaluation, we converse with you, laying out our findings and suggesting the best repair strategies, ensuring you're informed every step of the way.
Armed with seasoned expertise and top-grade materials, our proficient team aims to rejuvenate your roof, bringing it back to peak condition. Given the importance of roof restorations, we emphasize a fast yet detailed approach, harmonizing durability with impeccable craftsmanship.
Gutter Installation
A robust and efficiently installed gutter system is paramount in protecting your property from the perils of water damage. In Hanover, PA, DePalma Roofing & Construction stands as the beacon of excellence in this regard, offering bespoke gutter solutions fitting to the distinct architecture of local homes.
Each residence has its nuances, and with our diverse range of gutter styles and materials, we cater to every unique aesthetic and functional need. Be it the sleek appeal of seamless aluminum or the classic allure of copper gutters, our experienced team ensures meticulous installation every time.
A well-executed gutter system does more than just channel rainwater; it plays a pivotal role in prolonging the lifespan of both your roof and exterior façade. Given the importance, our approach remains holistic: we take into account Hanover's specific climatic challenges, your roof's inclination, and the overall dimensions of your property. Such detailed attention ensures the installed gutters not only look good but also perform optimally, channelling water efficiently and preventing any potential damage.
With DePalma Roofing & Construction, excellence isn't just a promise – it's our standard. From selecting premium-grade materials to adhering to strict installation protocols, we never compromise on quality. When you partner with us for your gutter needs in Hanover, you're choosing unmatched durability, aesthetics, and peace of mind.
Commercial Roofing
For premier commercial roofing solutions in Hanover, PA, businesses consistently turn to DePalma Roofing & Construction. Our services transcend mere installations and repairs, extending to encompass periodic evaluations, proactive maintenance, and decisive action when urgency strikes.
Recognizing the distinct intricacies of commercial roofs, which often differ from their residential counterparts, our skilled team is equipped to manage diverse roofing types, from flat systems to those with a gentle slope. With hands-on expertise in materials like EPDM and TPO, we ensure your commercial establishment is primed to weather Hanover's unique climatic challenges, standing as a protective shield.
What sets our commercial roofing services apart is the depth of our commitment. Through thorough inspections, we preemptively identify and address potential weak spots. Our forward-thinking approach to routine maintenance is geared towards preventing minor issues from escalating into major problems. And when repairs do beckon, our responsive team prioritizes minimizing disruptions to your business operations while ensuring the longevity and performance of your roofing system.
Entrust your Hanover commercial establishment to DePalma Roofing & Construction, where dedication meets unparalleled expertise.
Roof Inspection, Maintenance, and Replacement
In Hanover, PA, DePalma Roofing & Construction stands as a beacon of comprehensive roofing care, providing thorough inspections, diligent maintenance, and, when the need arises, complete roof overhauls. Our vision is to offer you an all-inclusive roofing experience that not only extends the lifespan of your roof but also maximizes its cost-effectiveness over time.
Routine checks and consistent care are essential in identifying and addressing budding issues before they escalate into significant problems. Our adept team delves deep into examining every aspect of your roof, spotting signs of wear or potential weak points. With this proactive stance, we aim to reinforce the durability and structural soundness of your roof.
Deciding on a complete roof replacement can be a significant consideration for Hanover property owners. This is why our experts stand by you every step of the way, imparting their wisdom, and assisting you in navigating the choices concerning materials that best suit your aesthetic desires and financial considerations. When it comes to the installation, our objectives are clear: to craft a roof that is not only aesthetically pleasing but also stands resilient against Hanover's diverse climatic challenges.
Why DePalma Roofing & Construction is Hanover's Go-To Roofing Expert
Choosing a roofing contractor goes beyond just technical prowess; it's about establishing trust and ensuring reliability, and that's where DePalma Roofing & Construction shines brightly.
Proven Experience
Our extensive track record of serving Hanover, PA, and its neighboring regions is a testament to our capabilities. We have honed our skills by navigating the unique weather conditions and architectural intricacies that define Hanover's roofing landscape.
Commitment to Excellence
Our primary mission is to maintain exceptional standards in every project we undertake. We select only top-tier materials and employ cutting-edge roofing techniques, ensuring that each task we engage in aligns with our rigorous benchmarks for quality.
Professional Mastery
The core of our brand is our talented team. Thanks to extensive training and a wealth of on-site experience, our professionals deliver accuracy and an artistic flair, crafting solutions that are both enduring and aesthetically pleasing.
Outstanding Customer Engagement
Our clients are our top priority. We are steadfast in our commitment to transparent communication and unparalleled service. Every phase of the roofing journey is thoroughly explained, assuring clear understanding and promptly addressing any questions or concerns.
Stellar Reputation
Our steadfast dedication to excellence has established us as a distinguished presence in the roofing industry, as evidenced by the continual commendations and gratitude we receive from satisfied clients. This recognition is a reflection of our core value: providing lasting, high-quality roofing solutions.
Community Involvement
We are more than just a business; we are a vital part of the Hanover community. We take pride in our active collaborations with local initiatives, showcasing our unwavering commitment and reinforcing our role as a dependable service provider.
When you choose DePalma Roofing & Construction, you are entrusting your roofing needs to a skilled, dedicated, and community-centric contractor in Hanover, PA. Experience the DePalma difference – contact us today and allow us to surpass your expectations with our exceptional services.
Advantages of Choosing a Local Roofing Specialist in Hanover, PA
Engaging with DePalma Roofing & Construction, a prestigious local roofing contractor in Hanover, PA, brings forth a myriad of benefits derived from our profound understanding of the Hanover terrain and its architectural characteristics. With years dedicated to serving the Hanover community, we've acquired deep insights into the region's unique weather challenges, ranging from searing summer temperatures to unexpected stormy outbursts. This intricate local perspective empowers us to recommend the most fitting roofing solutions designed specifically for Hanover's conditions, ensuring maximum protection for your establishment.
Moreover, our strategic positioning in Hanover guarantees proximity and accessibility. Whether you're facing a sudden roofing emergency post a weather disturbance or need routine upkeep, our team is poised to reach you in record time. This rapid response not only curtails potential further damages but also provides swift resolutions, instilling confidence and tranquility in our clients.
Opting for DePalma Roofing & Construction transcends beyond premier roofing solutions; it's a nod to supporting local ventures and strengthening the Hanover community. We aren't just a business entity; we're an intrinsic thread in the Hanover tapestry, passionately committed to its progress and prosperity. Our mission extends beyond mere roofing mastery; it envisions a holistic development and flourishing for the Hanover we deeply cherish.
In sum, by partnering with us, you're embracing a touch of community spirit, fortified by proficiency and a dedication to Hanover's bright horizon.
Allwood Manor
Amber's Turf
Breezewood
Broadway
Cherry Tree
Clearview
Countryside Estates
Edgegrove
Friar Tuck
Green Springs
Hickory Falls Alliance
Hickory Hills
Knoll
Kuhn
Longarm Reservoir Dist.
McSherrystown Magic Elm
North Penn 47
Off Blettner Ave
Park Hills
Pennville
Pigeon Hills
Ruel
S Center St
SoHa
Timerland II
VFW – Moul Field
Westminster/Woods
Woodridge Hunt
Engage with Hanover's Foremost Roofing Expert
For all your roofing needs in Hanover and the neighboring areas, DePalma Roofing & Construction is poised to deliver. Be it a fresh roof installation, immediate leak rectification, or periodic maintenance, our seasoned and adept team is available to provide the expertise and solutions tailored to your requirements. Understanding the unique nature of every roofing challenge, we commit to delivering strategies intricately designed for your specific demands.
Our comprehensive range of roofing services ensures our capability to undertake projects across both residential and commercial sectors, no matter the magnitude. We encourage you to initiate a dialogue with us, diving into the details of your envisioned undertaking. Our friendly team stands ready to address any questions you might have and provide a detailed estimate. Choose DePalma Roofing & Construction, Hanover's go-to local roofing authority, for unmatched quality and reliability.
10 or 25 YEAR 'PEACE OF MIND' WORKMANSHIP GUARANTEE
With every roof we install you are covered by GAF's 10 or 25 year workmanship guarantee. That means if a shingle cap blows off in a windstorm, or a leak forms, or anything roof related for that matter – we will promptly replace and/or repair the problem at no cost to you.