Roof Repair You Can Trust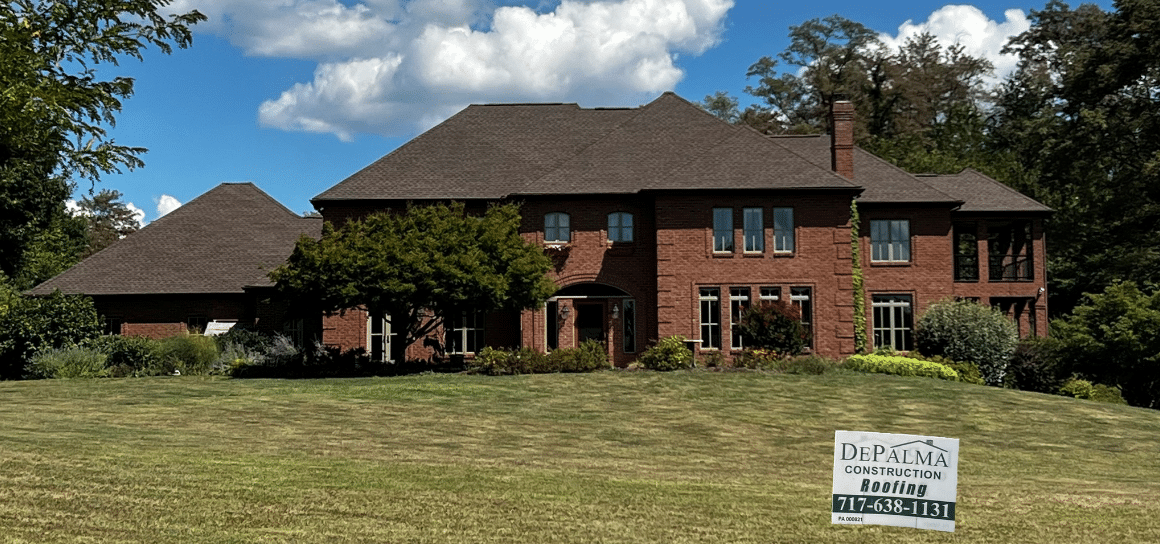 Your Trusted Roofing Contractor in Harrisburg, PA
Renowned for our dedication and expert craftsmanship, DePalma Roofing & Construction stands as a respected roofing contractor that the citizens of Harrisburg, PA, rely on and trust. We strive to deliver an unmatched level of service, a high standard of craftsmanship, and personalized attention to every client. We possess a breadth of knowledge that encompasses all aspects of residential and commercial roofing, including minor repairs, comprehensive installations, and everything in between.
Our team, comprised of proficient and skilled roofers, has served the Harrisburg community with consistent excellence for years. DePalma Roofing & Construction is a fully licensed and insured entity, and we offer a warranty on all the work we complete, a testament to our confidence in our service. From handling troublesome leaks and replacing worn-out shingles to installing skylights, our professionals have the skillset to undertake a wide variety of roofing projects.
At DePalma Roofing & Construction, we understand that each roofing project carries its own unique set of needs. Our team remains dedicated to understanding and addressing your specific concerns, crafting a tailored plan that aligns seamlessly with your objectives. We uphold an unwavering commitment to quality, affordability, and customer satisfaction, ensuring our services not just meet, but exceed the expectations of our clientele.
Choosing DePalma Roofing & Construction means placing your roofing project in the hands of capable, experienced professionals. Don't hesitate to reach out to us for more information about our top-of-the-line roofing services or to request a free, no-obligation quote. We are always ready to meet your roofing needs with our distinguished level of expertise and professionalism.
GAF Top President's Club Roofer
Comprehensive Roofing Services in Harrisburg, PA
DePalma Roofing & Construction offers an array of services to meet your roofing needs in Harrisburg, PA, and nearby areas. Our goal is to ensure that your home or commercial building is secure, safe, and aesthetically pleasing. Here's a glimpse into what we do best:
Shingle Roof Installation
Shingle roof installations are one of our specialties at DePalma Roofing & Construction. We understand the nuances of installing shingle roofs that not only look stunning but are also incredibly durable. Our expertise extends to a wide range of shingle types, including asphalt, wood, tile, and more.
The process begins with a thorough inspection of the current roof structure. We assess the underlying structure, determining its condition, and if any preparatory work is needed before the installation. We take care to ensure the shingles are laid perfectly and that each section of the roof is secure.
Over the years, we've refined our shingle installation process to minimize disruption to your daily life. Each job is completed with a meticulous clean-up, leaving your property just as we found it, minus the improved roof of course.
Roof Repair
The unpredictable weather in Harrisburg and the surrounding areas can lead to unexpected roof damage. At DePalma Roofing & Construction, we're always prepared to quickly assess and address these damages. Whether it's a minor leak or significant storm damage, our team is equipped to handle it.
We conduct a thorough inspection to determine the full extent of the damage, ensuring no hidden issues will cause problems down the line. We then discuss our findings with you, outlining the best repair options and keeping you informed throughout the process.
Our skilled team performs the necessary repairs efficiently, using quality materials to ensure your roof is restored to its original condition. We understand the urgency of roof repairs, so we aim to complete the process swiftly, without compromising on quality.
Gutter Installation
Quality gutters are crucial for protecting your home from water damage. At DePalma Roofing & Construction, we offer top-notch gutter installation services. We understand that every home is unique, and so we offer various gutter types and styles to suit your specific needs.
A correctly installed gutter system can dramatically extend the lifespan of your roof and siding, and our team ensures every gutter installation is performed to the highest standard. We take into account factors like roof slope, house size, and local weather patterns to select and install the ideal gutter system for your home.
Commercial Roofing
The commercial roofing services we offer at DePalma Roofing & Construction go beyond the typical installation and repair. We take a comprehensive approach to commercial roofing, including regular inspections, maintenance, and prompt repairs when needed.
We understand that commercial roofing needs differ significantly from residential ones, and our team is trained to handle various roofing types, including flat roofs, low-sloped roofs, and materials like EPDM and TPO.
Roof Inspection, Maintenance, and Replacement
Our holistic approach to roofing extends to inspections, routine maintenance, and roof replacement services. Regular inspections and maintenance can identify and address potential issues before they escalate, prolonging your roof's life and saving you money in the long run.
When it comes to roof replacements, we understand it's a significant decision for any homeowner. We guide you through the process, helping you select the best materials and ensuring a seamless installation.
Why Choose DePalma Roofing & Construction as your Trusted Roofer in Harrisburg
In the world of roofing, it's essential to find a contractor who not only provides high-quality workmanship but also offers the assurance of trust and reliability. This is where DePalma Roofing & Construction comes in.
Experience
With years of dedicated service in the Harrisburg, PA, area and beyond, DePalma Roofing & Construction has honed its skills to perfection, navigating the unique weather patterns and architectural trends that define local roofing requirements.
Quality Commitment
Our central mission is to deliver uncompromising quality across all our services. This means using top-tier materials and applying the latest, most effective roofing techniques to guarantee each project we undertake exceeds our own rigorous quality standards.
Professional Team
Our team is the bedrock of our success. Every member is extensively trained and brings rich hands-on experience to your project. Their painstaking attention to detail ensures we deliver results that are not just durable but also aesthetically pleasing, standing up to the test of time.
Customer Service
We believe in fostering enduring client relationships through excellent service and clear, open communication. As a company that places customers at the heart of its operations, we strive to keep you informed at every step of your roofing project, addressing all queries promptly and ensuring every aspect of your roofing needs is met to your utmost satisfaction.
Proven Track Record
Over the years, we have established a strong reputation in the roofing and construction business, which is reflected in the positive feedback we consistently receive from our satisfied clients. This reaffirms our commitment to providing high-quality roofing solutions that stand the test of time.
Community Engagement
Our bond with the community goes beyond just business. We are proud to be connected with the Milton Hershey schools, where we have been the exclusive roofer for their annual house-building project for the past three years. Our commitment to the community showcases our integrity and value as a service provider.
Choosing DePalma Roofing & Construction means selecting a reliable, professional, and customer-centric roofing contractor in Harrisburg, PA.
The Benefits of Choosing a Local Roofing Contractor
When you opt for DePalma Roofing & Construction, a local roofing contractor, you gain an advantage from our intrinsic understanding of the Harrisburg climate and architecture. Our years of experience in the area have given us firsthand knowledge about the type of weather-related challenges roofs commonly face here, from heavy snowfall in the winter to strong winds throughout the year. Such local expertise means we are ideally placed to recommend the best roofing solutions for your home or business that can withstand local weather patterns, giving your property robust protection.
Moreover, our close proximity to our customers enables us to deliver fast and efficient services. Whether it's an emergency roof repair after a storm or a planned roofing maintenance, our team can quickly arrive at your location, reducing response times and ensuring the job gets done promptly, minimizing potential damage and inconvenience.
Aside from the service benefits, choosing DePalma Roofing & Construction means you are supporting a local business and indirectly contributing to the local economy. We are more than just a roofing contractor; we are part of the community. We are your neighbors. We share the same love for Harrisburg and its surrounding areas, and we are invested in its growth and prosperity. Our commitment extends beyond providing roofing services – it's about building a thriving local community together.
7th Street Gateway
Amber Fields
Arch Way
Autumn Oaks
Bamberger/ Elmerton
Beaufort
Belle Nance Farms
Bellevue Park
Bellevue Road
Blue Mountain
Bradford Estates
Brandywine Village
Brightbill
Brookview
Brynfield
Camp Curtin
Capitol Heights
Carey St
Centennial Acres
Central Allison Hill
Central Dauphin
Chambers Hill
Chambers Pointe
Clinton – Logan
Clover Lee
Colonial
Creekwood Drive
Crown Point
Deaven Woods
Deer Path Woods
Devon Manor
Downtown Capitol Streets
Downtown Harrisburg
Earl – 81
Edgemont
Engleton
Englewood Heights
Enhaut
Fiddlers Elbow/S 80th
Fishing Creek Valley
Four Seasons
Fox Chase
Gale Drive
Governor's Square
Hardscrabble
Hidden Lake
Highpointe/Olympus
Historic Midtown
Ivy Ridge
Jonestown
Kendale Oaks
Kings Crossing
Kline Village
Landmark
Lawnford
Lawnton
Linglestown
Locust
Magnolia Terrace
Manor / Quality
Market Place
Meadowview / Twin Lakes
Melrose Gardens
Montfort
Montrose Park
Mountaindale
Mulberry St
N 50th St
N Cameron St
New Dawn
Oakwood
Oberlin Gardens
Old Fox Ridge
Park View
Parkway West
Paxtang
Paxton Crossing
Paxtonia
Penbrook
Piketown
Pleasant Hills-Ridgeview
Pritchard Ct/Chamber Hill
Progress
Providence
Quail Hollow
Reserve at Paxton Creek
Reservoir Park
Rolling Ridge I
Rutherford
Shipoke
Shreinerstown
Sienna Woods
Skyline View
South Arlington Avenue
South Harrisburg
Springford Terrace
Stephens Stuff
Stratford woods
Summit Terrace
Supercuts
Swatara
Sylvan Terrace
The Hill
The Townes at Margaret's Grove
Twin Lakes Manor
Uptown
Waverly Woods
West Hanover
Wildwood Smiles
Williamsburg
Wilshire Estates
Windmere
Woodridge Estates
Connect With Us
For all your roofing needs in the Harrisburg area and beyond, DePalma Roofing & Construction is at your service. Whether you require a new roof installation, need to patch a leak, or are looking for consistent maintenance, our professional and experienced team is ready to assist. We understand that every project is unique, and we are committed to providing tailored solutions that align with your specific needs.
With our comprehensive range of roofing services, we are able to handle any project size, whether residential or commercial. We welcome inquiries, and our friendly staff is available to discuss your project's specifics, answer any questions you may have, and provide an estimate. Reach out to DePalma Roofing & Construction – your local roofing contractor in Harrisburg, where quality meets reliability.
10 or 25 YEAR 'PEACE OF MIND' WORKMANSHIP GUARANTEE
With every roof we install you are covered by GAF's 10 or 25 year workmanship guarantee. That means if a shingle cap blows off in a windstorm, or a leak forms, or anything roof related for that matter – we will promptly replace and/or repair the problem at no cost to you.