Roof Repair You Can Trust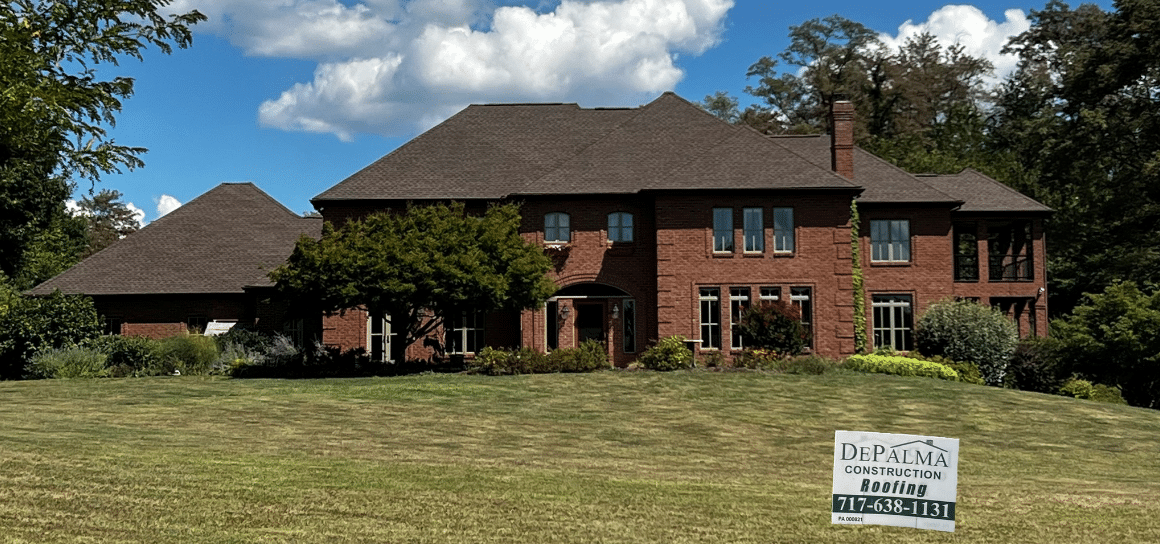 Reliable Roofing Contractor in Lewisberry, PA
When it comes to roofing services in Lewisberry, PA, you can rely on DePalma Roofing & Construction as your experienced and reputable roofing contractor. With a proven track record of delivering exceptional results, we pride ourselves on our commitment to quality craftsmanship and unparalleled customer service. Our team of skilled professionals possesses extensive knowledge in both residential and commercial roofing, enabling us to handle a wide range of projects, from minor repairs to complete installations.
Over the years, we have earned the trust of the Lewisberry community with our consistent excellence and dedication to exceeding customer expectations. DePalma Roofing & Construction is fully licensed and insured, providing you with peace of mind and confidence in our services. Whether you need assistance with challenging leaks, worn-out shingles, or skylight installations, our experts have the expertise to tackle diverse roofing projects with precision and expertise.
At DePalma Roofing & Construction, we understand that every roofing project has its own unique requirements. That's why we take the time to listen to your specific needs and concerns, developing a customized plan that perfectly aligns with your goals. Our unwavering commitment to quality, affordability, and customer satisfaction ensures that our services not only meet but exceed your expectations.
Choosing DePalma Roofing & Construction means selecting a reliable and professional roofing contractor in Lewisberry, PA. Contact us today to learn more about our top-notch roofing services or to request a free, no-obligation quote. We are dedicated to providing you with the highest level of expertise and professionalism for all your roofing needs.
GAF Top President's Club Roofer
Roofing Solutions Tailored to Lewisberry, PA
When it comes to roofing services in Lewisberry, PA, DePalma Roofing & Construction has you covered. We provide a comprehensive range of solutions to meet your unique roofing needs, whether it's for your home or commercial building. Our dedicated team is committed to delivering exceptional results that not only enhance the security and safety of your property but also elevate its visual appeal. Here's a glimpse into the expertise we bring to the table:
Shingle Roof Installation
At DePalma Roofing & Construction, we specialize in delivering exceptional shingle roof installations tailored to your Lewisberry, PA property. With our keen eye for detail, we understand the importance of not only installing shingles that exude stunning aesthetics but also providing unparalleled durability. Our expertise encompasses a wide array of shingle types, including asphalt, wood, tile, and more.
The process commences with a thorough inspection of your current roof structure. Our skilled team meticulously evaluates the underlying structure, assessing its condition and determining if any preparatory work is necessary prior to installation. We take great care in ensuring that the shingles are flawlessly laid, securing each section of your roof with precision and expertise.
Over the years, we have honed our shingle installation process to minimize any disruptions to your daily life. Our dedicated team strives to complete each job efficiently and seamlessly, taking pride in our meticulous clean-up process that leaves your property pristine. Rest assured that when you choose DePalma Roofing & Construction for your shingle roof installation in Lewisberry, PA, you're making an investment in exceptional craftsmanship and a beautiful, enhanced roof. Contact us today for a consultation and witness the transformative power of our expert shingle installations.
Roof Repair
Lewisberry, PA, and its neighboring areas are no strangers to the whims of Mother Nature, which can often result in unexpected roof damage. At DePalma Roofing & Construction, we're always prepared to swiftly assess and address these damages, providing you with reliable solutions. Whether you're dealing with a minor leak or significant storm damage, our skilled team is well-equipped to handle the task at hand.
We begin by conducting a thorough inspection of your roof, leaving no stone unturned in our quest to determine the full extent of the damage. Our goal is to identify any hidden issues that could potentially cause problems down the line. Once we have a comprehensive understanding of the situation, we engage in open and transparent communication, discussing our findings with you and outlining the best repair options available.
Restoring your roof to its original condition is our top priority. Our skilled team performs the necessary repairs efficiently, utilizing high-quality materials to ensure long-lasting durability. We understand the urgency of roof repairs, which is why we strive to complete the restoration process swiftly, without compromising on the quality of our workmanship.
Gutter Installation
When it comes to safeguarding your home from water damage, high-quality gutters play a vital role. At DePalma Roofing & Construction, we pride ourselves on offering top-notch gutter installation services that provide optimal protection for your unique home in Lewisberry, PA.
Our team understands that every home has its distinct characteristics, which is why we provide a range of gutter types and styles to suit your specific needs. Whether you prefer seamless aluminum gutters, copper gutters for a touch of elegance, or any other gutter material, we have the expertise to handle the installation with precision and care.
A properly installed gutter system can significantly prolong the lifespan of your roof and siding. That's why our team ensures that every gutter installation is executed to the highest standard. We take into account essential factors such as roof slope, house size, and local weather patterns to select and install the ideal gutter system that effectively channels water away from your home, preventing potential water damage.
At DePalma Roofing & Construction, we prioritize quality and excellence in every aspect of our work. From the selection of premium materials to the meticulous installation process, our team is committed to delivering outstanding results. You can trust us to protect your Lewisberry home with a reliable and high-performance gutter system.
Commercial Roofing
At DePalma Roofing & Construction, we go above and beyond the ordinary when it comes to commercial roofing. Our comprehensive approach encompasses not only installation and repair but also regular inspections, proactive maintenance, and prompt repairs when needed.
We recognize that commercial roofing needs are distinct from residential roofing requirements, and our highly trained team is well-equipped to handle various roofing types. From flat roofs to low-sloped roofs, we have the expertise to tackle any commercial roofing project. We are experienced in working with materials like EPDM and TPO, ensuring that your commercial property is well-protected and built to withstand the challenges of Lewisberry, PA's unique climate.
Our commitment to excellence extends to every aspect of our commercial roofing services. We conduct thorough inspections to identify any potential issues and provide proactive maintenance to prevent problems before they arise. Should repairs be necessary, we respond promptly, minimizing downtime for your business and ensuring the longevity and performance of your commercial roof.
Roof Inspection, Maintenance, and Replacement
At DePalma Roofing & Construction, we take a holistic approach to roofing, offering a wide range of services that include inspections, routine maintenance, and roof replacements. Our goal is to provide you with a complete roofing solution that extends the lifespan of your roof while saving you money in the long run.
Regular inspections and maintenance are key to identifying and addressing potential issues before they escalate. Our experienced team will carefully assess your roof, identifying any signs of damage or areas that require attention. By catching problems early on, we can implement the necessary repairs or maintenance measures to ensure the longevity of your roof.
When it comes to roof replacements, we understand that it's a significant decision for any homeowner. Our experts will guide you through the entire process, offering their expertise and recommendations to help you select the best materials that suit your needs and budget. We strive for a seamless installation, ensuring that your new roof is not only aesthetically pleasing but also provides optimal protection for your home.
Why DePalma Roofing & Construction is Your Trusted Roofer in Lewisberry, PA
When it comes to roofing, you need more than just skilled craftsmanship – you need a contractor you can trust. That's where DePalma Roofing & Construction shines.
Experience
With years of dedicated service in the Lewisberry, PA, area and beyond, DePalma Roofing & Construction has honed its skills to perfection, adapting to the unique weather patterns and architectural styles that define local roofing requirements.
Commitment to Quality
Our central mission is to deliver uncompromising quality in all our services. We use top-tier materials and employ the latest, most effective roofing techniques to ensure that every project we undertake surpasses our own rigorous quality standards.
Professional Team
Our team is the cornerstone of our success. Each member is extensively trained and brings a wealth of hands-on experience to your project. Their meticulous attention to detail ensures that we deliver results that not only stand the test of time but also enhance the aesthetics of your property.
Customer Service
At DePalma Roofing & Construction, we believe in building enduring client relationships through excellent service and transparent communication. We strive to keep you informed at every step of your roofing project, promptly addressing any questions or concerns to ensure your complete satisfaction.
Proven Track Record
Over the years, we have established a strong reputation in the roofing and construction business, evident through the consistently positive feedback we receive from our satisfied clients. This reinforces our commitment to providing high-quality roofing solutions that are built to last.
Community Engagement
Our commitment to the community extends beyond business. We are proud to be associated with the Milton Hershey schools, where we have served as the exclusive roofer for their annual house-building project for the past three years. Our dedication to the community showcases our integrity and highlights our value as a service provider.
By choosing DePalma Roofing & Construction, you're selecting a reliable, professional, and customer-centric roofing contractor in Lewisberry, PA. Experience the difference firsthand – contact us today and let us exceed your expectations with our exceptional services.
The Advantages of Hiring a Local Roofing Contractor in Lewisberry, PA
When you choose DePalma Roofing & Construction, a trusted local roofing contractor, you unlock a range of benefits that come from our deep understanding of the Lewisberry climate and architectural landscape. Our extensive experience in the area has equipped us with firsthand knowledge of the weather-related challenges roofs commonly encounter, from harsh winter snowfall to strong winds throughout the year. This localized expertise enables us to recommend the most suitable roofing solutions that can withstand Lewisberry's unique weather patterns, ensuring robust protection for your property.
Additionally, our close proximity to our customers allows us to provide fast and efficient services. Whether you require emergency roof repairs following a storm or regular maintenance, our team can swiftly reach your location, minimizing response times and ensuring a prompt resolution. By acting swiftly, we mitigate potential damages and inconveniences, providing you with peace of mind.
Beyond the service benefits, choosing DePalma Roofing & Construction means supporting a local business and contributing to the growth of the Lewisberry community. We are more than just a roofing contractor – we are your neighbors. We share a passion for Lewisberry and its surrounding areas, and we are dedicated to fostering a thriving local economy. Our commitment extends beyond delivering exceptional roofing services; it's about building a resilient and prosperous community together.
Get in Touch with Lewisberry's Premier Roofing Contractor
When it comes to all your roofing needs in the Lewisberry area and beyond, DePalma Roofing & Construction is here to serve you. From new roof installations to leak repairs and regular maintenance, our professional and experienced team is ready to provide the assistance you need. We understand that every project is unique, and we are committed to delivering tailored solutions that align with your specific requirements.
With our comprehensive range of roofing services, we have the expertise to handle projects of any size, whether it's for residential or commercial properties. We encourage you to reach out and connect with us to discuss the specifics of your project. Our friendly staff is available to address any questions you may have and provide you with a detailed estimate. Trust DePalma Roofing & Construction, your local roofing contractor in Lewisberry, to deliver quality workmanship and reliability.
10 or 25 YEAR 'PEACE OF MIND' WORKMANSHIP GUARANTEE
With every roof we install you are covered by GAF's 10 or 25 year workmanship guarantee. That means if a shingle cap blows off in a windstorm, or a leak forms, or anything roof related for that matter – we will promptly replace and/or repair the problem at no cost to you.