Roof Repair You Can Trust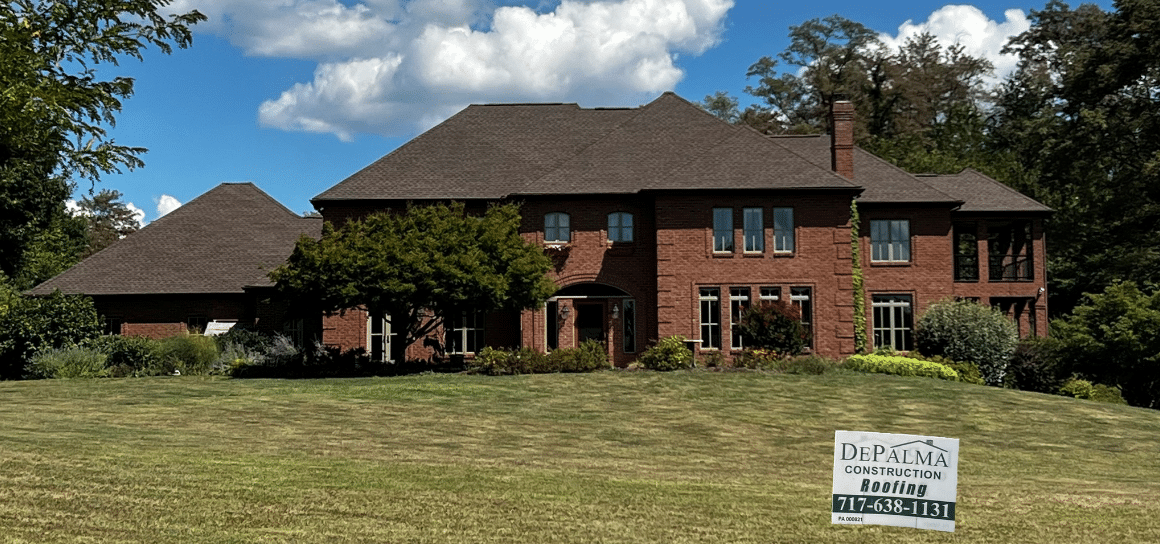 Outstanding Roofing Contractor in Wellsville, PA
Nestled in the dynamic landscape of Wellsville, PA, DePalma Roofing & Construction is recognized as the leading roofing company. Our prominent mark in the Wellsville roofing industry underscores our staunch dedication to superior quality and exceptional client interactions. Housing a team of skilled installers, we confidently manage both residential and commercial endeavors, ranging from routine check-ups to comprehensive overhauls.
The respect we've garnered in the Wellsville community attests to our continuous drive for perfection and our deep-seated allegiance to our esteemed clientele. By choosing DePalma Roofing & Construction, you're aligning with a fully licensed and insured contractor, skilled in navigating the myriad roofing challenges—from handling unexpected breaches, offering advice on material selections, to integrating contemporary skylight designs. We promise accuracy, timeliness, and unparalleled expertise every step of the way.
Understanding that each roofing project possesses its unique demands, our company is dedicated to tuning into your distinct requirements, tailoring our strategies to fit your aspirations seamlessly. With a foundation built on unmatched quality, affordability, and customer delight, our offerings are carefully curated to exceed your roofing aspirations.
Opting for DePalma Roofing & Construction in Wellsville, PA is an affirmation of your trust in a company renowned for its reliability and expertise. Contact us today to discover our top-tier roofing solutions or to secure a no-obligation, complimentary estimate. Our steadfast assurance? Delivering unmatched excellence for all your roofing needs.
GAF Top President's Club Roofer
Exceptional Roofing Installation in Wellsville, PA
Within the roofing sphere of Wellsville, PA, DePalma Roofing & Construction emerges as an epitome of unparalleled skill and artistry. Catering to a broad spectrum, our company demonstrates proficiency in both commercial and residential roofing ventures. Led by a committed team, we not only focus on safeguarding your property against climatic adversities but also accentuate its aesthetic charm. Delve into the commitment and expertise our company embodies:
Shingle Roof Installation
In the pulsating world of Wellsville's roofing arena, DePalma Roofing & Construction has carved a niche as a leading installer of shingle roofs. Our company's prowess spans various shingle types, encompassing classic options like asphalt and wood to the sophisticated tile variants.
Before commencing any project, our contractor conducts a comprehensive assessment of your existing roof. This meticulous evaluation unveils its condition and pre-installation requisites. Ensuring precision in every step, our installer guarantees that each shingle is perfectly aligned, culminating in a durable and visually stunning roof.
Leveraging our rich industry lineage, we adopt installation techniques that are efficient and mindful of your day-to-day activities. Staying true to our promise of exemplary service, we wrap up every task with an exhaustive cleanup, leaving your premises immaculate, enhanced by a first-rate roofing solution.
Roof Repair
Wellsville's climatic shifts can bring unexpected roofing hurdles. However, with DePalma Roofing & Construction, the area's top-tier contractor, you're covered no matter the weather. From small leak patches to substantial weather-induced damages, our seasoned experts stand ready to assist.
Initiating every repair, our team dives into a thorough examination to detect damages, ensuring no lurking issues remain undetected. Post-inspection, we prioritize open dialogue, updating you about our observations and proposed fixes.
Harnessing years of know-how and premier materials, we're driven to restore your roof to peak condition. Every repair task is executed with speed and meticulousness, marrying durability with elite craftsmanship.
Gutter Installation
In Wellsville, a robust gutter system is indispensable to shield your estate from potential water harm. DePalma Roofing & Construction, a reputable company in the locale, crafts bespoke gutter installations harmonizing with Wellsville's architectural specifics.
Recognizing the uniqueness of every establishment, we extend a spectrum of gutter alternatives to cater to diverse style and function requisites. Whether you desire the sleek finish of continuous aluminum or the enduring charm of copper gutters, our adept installers guarantee impeccable results.
Beyond merely channeling rainwater, gutters are instrumental in amplifying your roof's longevity and preserving your property's outward allure. Our holistic strategy takes into account Wellsville's weather conditions, roof pitch, and building design, assuring both visual appeal and operational efficiency.
Selecting DePalma Roofing & Construction equates to choosing unmatched caliber. From superior-grade materials to stringent installation protocols, we place quality at the forefront.
Commercial Roofing
For unmatched commercial roofing services in Wellsville, enterprises rely on DePalma Roofing & Construction. Our exhaustive offerings encompass everything from installations and repairs to preemptive upkeep and swift interventions.
Understanding the distinctive necessities of commercial rooftops, our expert team is well-versed in varied roof designs, spanning flat to mildly inclined. With an in-depth grasp of materials like EPDM and TPO, we assure your commercial premises stays fortified against Wellsville's specific climatic challenges.
Our commercial roofing solutions are renowned for their forward-thinking stance. We advocate regular assessments and maintenance, pinpointing and rectifying budding issues promptly. Should repairs be mandated, our crew prioritizes business continuity, all while bolstering the roof's robustness.
For commercial roofing mastery in Wellsville, look no further than DePalma Roofing & Construction.
Roof Inspection, Maintenance, and Replacement
In Wellsville, DePalma Roofing & Construction epitomizes roofing brilliance, offering scrupulous inspections, methodical maintenance, and when warranted, holistic roof overhauls. Our objective? Maximizing your roof's life span, promising optimal value through its tenure.
Consistent monitoring and timely maintenance are paramount, facilitating early identification and rectification of looming concerns. Our skilled team scrupulously evaluates your roof, pinpointing any signs of deterioration or potential weak spots.
Recognizing the gravity of an all-encompassing roof substitution, our specialists accompany you at every step, assisting in material selection that resonates with both your taste and budgetary constraints. As the installation process commences, our commitment remains unyielding, offering a roof that seamlessly merges aesthetics with durability, aptly suited for Wellsville's diverse climatic conditions.
Why Wellsville Prefers DePalma Roofing & Construction for Premier Roofing Solutions
When seeking a roofing contractor, it's not solely about expertise; it's about fostering trust and ensuring steadfast dependability. Guided by these values, DePalma Roofing & Construction has emerged as the top choice for Wellsville residents.
Legacy of Excellence
Our enduring footprint in Wellsville and adjacent areas attests to our superior skills. By acquainting ourselves with Wellsville's unique climatic shifts and architectural specifics, we've refined our craft to unmatched levels.
Commitment to Quality
Each endeavor we embark on mirrors our deep-seated commitment to excellence. Utilizing first-rate materials and innovative methods, we pledge that every undertaking resonates with our stringent quality standards.
Pinnacle of Craftsmanship
Central to our company is an elite team, equipped with extensive training and abundant practical experience. Their adeptness, fused with progressive craftsmanship, culminates in robust and aesthetically pleasing solutions.
Devotion to Our Patrons
Our cherished patrons remain the pillar of our venture. We prioritize candid dialogue and impeccable service, ensuring you're navigated through every phase, resolving any inquiries or hesitations.
Esteemed Recognitions
Our unwavering zeal for perfection has cemented our eminent stature in the roofing domain. Endless accolades from our gratified clientele bear witness to our resolve: to deliver top-tier, enduring roofing results.
Community Involvement
Beyond our occupational commitments, we're an intrinsic element of the Wellsville fabric. Our enthusiastic involvement in local initiatives underscores our loyalty, bolstering our status as a reliable community ally.
Choosing DePalma Roofing & Construction signifies entrusting your roofing projects to a devoted, adept, and community-oriented contractor in Wellsville, PA. Experience the DePalma distinction—connect with us today and amplify your roofing journey with our unparalleled expertise.
Advantages of Partnering with Wellsville's Elite Roofing Contractor
When you choose DePalma Roofing & Construction, the premier roofing contractor in Wellsville, PA, you benefit from an array of advantages that stem from our profound grasp of Wellsville's unique environmental and architectural features. Our longstanding involvement in Wellsville provides us a nuanced understanding of its diverse climatic challenges—be it blazing summer sun or torrential rains. Such localized know-how empowers us to design roofing solutions that are tailor-made for Wellsville, assuring unmatched protection for your property.
Moreover, our strategic location in Wellsville guarantees swift interventions. Whether you face an unexpected roofing issue due to harsh weather or need routine check-ups, our company's professionals are ever-ready to provide prompt assistance. Rapid reactions not only prevent further damages but also facilitate effective solutions, solidifying our trusted relationship with clients.
Choosing DePalma Roofing & Construction isn't merely about superior roofing; it's an endorsement of a local enterprise, fueling the prosperity of the Wellsville community. We're not just a business; we're an essential thread in the fabric of Wellsville's community, fervently committed to its progress and prosperity. Our vision extends beyond mere roofing prowess; we aim for the all-round enrichment and betterment of our beloved Wellsville.
In short, when you team up with us, you're not only availing top-tier roofing solutions but also strengthening local bonds, founded on exceptional artisanship and an unwavering dedication to Wellsville's promising future.
Connect with Wellsville's Leading Roofing Contractor
When you're in need of all-encompassing roofing services in Wellsville and neighboring areas, trust none other than DePalma Roofing & Construction. Be it contemplating a new roofing venture, addressing an emergency leak, or periodic maintenance, our adept installers are at your beck and call, devising solutions precisely tailored to your needs. Realizing that every roofing challenge possesses its unique intricacies, we promise to craft approaches in tune with your specific wishes.
Our extensive array of roofing services showcases our proficiency in managing both residential and commercial projects, regardless of their magnitude. We invite you to discuss the specifics of your upcoming assignment. Our amiable and informed team is keen to answer any queries and provide an exhaustive estimate. Choose DePalma Roofing & Construction, the zenith of roofing contractors in Wellsville, and step into a realm of unmatched excellence and dependability.
10 or 25 YEAR 'PEACE OF MIND' WORKMANSHIP GUARANTEE
With every roof we install you are covered by GAF's 10 or 25 year workmanship guarantee. That means if a shingle cap blows off in a windstorm, or a leak forms, or anything roof related for that matter – we will promptly replace and/or repair the problem at no cost to you.