Roof Repair You Can Trust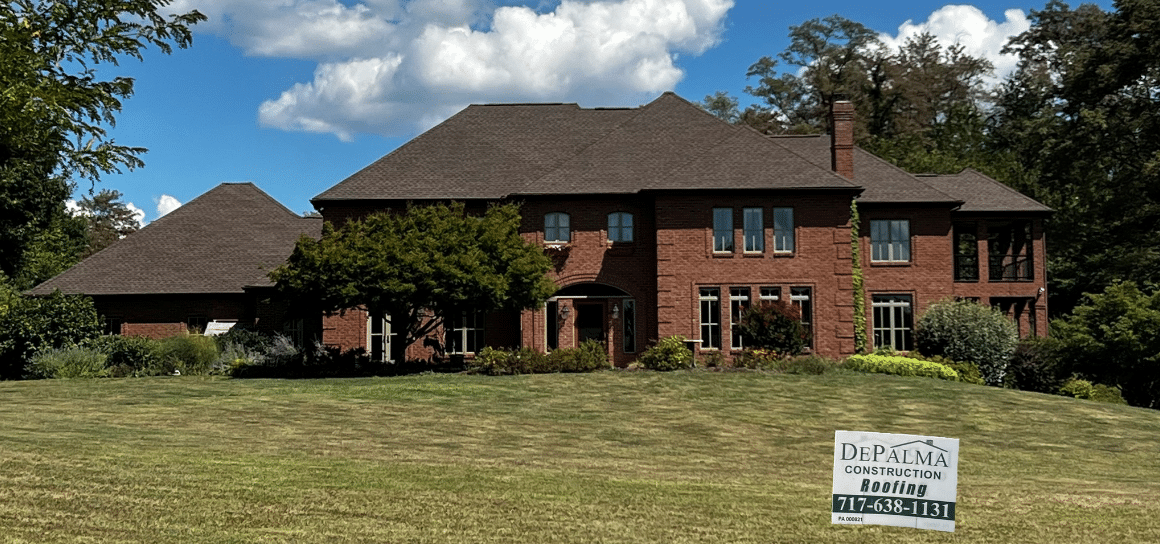 Your Premier Roofing Contractor in Dover, PA
When it comes to top-tier roofing solutions in Dover, PA, DePalma Roofing & Construction stands out as the trusted choice. Our rich history of excellence in roofing speaks volumes about our dedication to superior craftsmanship and unmatched customer care. Our team, a blend of seasoned experts, specializes in both residential and commercial roofing, making us versatile enough to handle everything from minor touch-ups to comprehensive installations.
Over time, we have solidified our reputation within the Dover community by consistently showcasing excellence and going above and beyond for our clients. Rest assured, DePalma Roofing & Construction operates with full licensing and insurance, ensuring that you can place your trust in our services with complete confidence. Whether it's addressing persistent leaks, replacing old shingles, or setting up new skylights, our team promises accuracy, efficiency, and unparalleled expertise in every task they undertake.
Every roofing project brings its own set of nuances and challenges. At DePalma Roofing & Construction, we recognize this, which is why we always prioritize understanding your specific needs, tailoring our approach to guarantee results that mirror your vision. Our core principles of quality, affordability, and client satisfaction ensure our solutions don't just meet, but surpass your desires.
Opting for DePalma Roofing & Construction means choosing the epitome of reliability and professionalism in Dover, PA. Reach out to us today to discover more about our outstanding roofing services or to get a free, no-strings-attached estimate. We are unwaveringly committed to offering you the pinnacle of service for all your roofing requirements.
GAF Top President's Club Roofer
Complete Roofing Solutions in Dover, PA
When it comes to roofing services in Lewisberry, PA, DePalma Roofing & Construction has you covered. We provide a comprehensive range of solutions to meet your unique roofing needs, whether it's for your home or commercial building. Our dedicated team is committed to delivering exceptional results that not only enhance the security and safety of your property but also elevate its visual appeal. Here's a glimpse into the expertise we bring to the table:
Shingle Roof Installation
At DePalma Roofing & Construction, shingle roofing installations stand out as one of our premier services. Serving Dover, PA, we're adept at crafting roofs that are not only visually appealing but also built to last. Our proficiency encompasses a broad spectrum of shingle materials, from asphalt and wood to tile and beyond.
Every project kicks off with a comprehensive evaluation of the existing roof structure. We meticulously inspect the foundation, gauging its state and determining if any preliminary work is essential before the shingle installation. Our focus remains on precision, ensuring every shingle is perfectly aligned and the entirety of the roof is fortified.
With our years of experience, we've honed our installation methods to be as non-intrusive as possible. And as a hallmark of our service, we conclude every task with a thorough clean-up, ensuring your premises remain pristine—with the notable enhancement of a top-notch roof, naturally.
Roof Repair
The ever-changing weather in Dover can sometimes result in unforeseen roof damages. At DePalma Roofing & Construction, we're always on standby, ready to diagnose and remedy any roofing issues you might face. Whether it's a slight leak or extensive storm-inflicted damage, our crew is well-prepared to manage it.
Our approach involves an in-depth evaluation to identify all damaged areas, ensuring there aren't any concealed concerns that might resurface later. We then sit down with you to discuss our observations, presenting the most effective repair solutions and keeping you in the loop throughout the undertaking.
Equipped with expertise and premium materials, our adept team endeavors to restore your roof to its prime state. Recognizing the critical nature of roofing repairs, we prioritize a swift yet meticulous repair process, ensuring longevity and quality go hand in hand.
Gutter Installation
The importance of top-quality gutters in preserving your home from water-related damages cannot be overstated. At DePalma Roofing & Construction, we are dedicated to delivering superior gutter installation solutions tailored for the unique needs of homes in Dover, PA.
Recognizing that each home possesses its own individual charm and requirements, we offer an array of gutter designs and materials. Whether you're inclined towards seamless aluminum gutters, the refined look of copper gutters, or any other preferred material, our seasoned team ensures a flawless and careful installation.
An expertly mounted gutter system doesn't just protect your home from water; it significantly extends the life of your roof and exterior walls. Bearing this in mind, we focus on the minutiae during installation, considering crucial elements like the gradient of your roof, the size of your property, and Dover's typical weather conditions. This comprehensive approach ensures that we fit a gutter system that adeptly directs water away, safeguarding your home from potential water-related issues.
At DePalma Roofing & Construction, we set the bar high, valuing both quality and precision in our operations. From handpicking the finest materials to adhering to rigorous installation standards, we're unwavering in our pursuit of perfection. Entrust your Dover residence to us, and experience the peace of mind that comes with a top-tier gutter system.
Commercial Roofing
DePalma Roofing & Construction is a leader in commercial roofing services, offering more than just the basics in Dover, PA. Our all-encompassing solutions range from installations and repairs to regular evaluations, preventative upkeep, and timely interventions when required.
Understanding that commercial roofs come with their unique set of demands, distinct from residential ones, our seasoned team is adept at handling a variety of roofing styles. Whether it's a flat roofing system or a low-sloped design, we bring proficiency to every project. Our experience spans across materials like EPDM and TPO, ensuring that Dover's distinct weather challenges are met, and your commercial facility remains secure.
Our dedication to top-tier service shines through in every facet of our commercial roofing offerings. Comprehensive inspections ensure that potential vulnerabilities are promptly spotted, and our proactive approach to maintenance seeks to ward off issues before they escalate. In the event of repair needs, we act swiftly, aiming to reduce any operational interruptions and guaranteeing the durability and efficiency of your commercial roofing system.
Roof Inspection, Maintenance, and Replacement
At DePalma Roofing & Construction, we believe in a comprehensive solution for all your roofing needs, encompassing evaluations, consistent maintenance, and when the time comes, full roof replacements. Our aim is to present you with an end-to-end roofing service that not only prolongs your roof's life but also offers long-term financial benefits.
Consistent evaluations and upkeep are paramount to pinpointing and rectifying potential issues before they become major concerns. Our seasoned team will meticulously scrutinize your roof, pinpointing wear and tear or potential vulnerabilities. By proactively addressing these concerns, we work towards preserving the structural integrity and longevity of your roof.
We recognize the weight of a decision like roof replacement for property owners in Dover, PA. That's why our specialists are committed to guiding you at every step, sharing their knowledge, and helping you make informed choices about materials that align with your preferences and budget. Our focus during installation is twofold: to ensure the final result is visually appealing and that it offers the best possible defense against Dover's varying weather conditions.
Why DePalma Roofing & Construction Stands Out as Dover's Premier Roofer
Selecting a roofing contractor isn't solely about technical expertise; it's about trust and reliability. This is where DePalma Roofing & Construction excels.
Proven Experience
Our seasoned history of serving Dover, PA, and surrounding areas speaks for itself. We've perfected our craft by understanding the specific climatic challenges and architectural nuances that shape Dover's roofing landscape.
Unwavering Quality Commitment
Our prime directive is to uphold unparalleled standards in all our projects. We opt for only the finest materials and utilize the latest roofing methodologies, ensuring every endeavor we embark on meets our stringent criteria for excellence.
Dedicated Professionals
The strength of our brand lies in our people. With rigorous training and vast field experience, our team guarantees precision, coupled with an aesthetic touch, ensuring our solutions are both long-lasting and visually appealing.
Exceptional Customer Relations
We prioritize our clients, and to that end, our emphasis on open communication and unmatched service is unwavering. Every stage of the roofing process is communicated, ensuring clarity and addressing any queries or concerns with promptness.
Stellar Reputation
Our commitment to excellence has earned us a stellar standing in the roofing realm, reinforced by the continuous accolades and appreciation we receive from contented clients. It's a testament to our ethos: delivering enduring, high-caliber roofing solutions.
Community Involvement
More than just a business entity, we're an integral part of the Dover community. We've had the honor of collaborating with local initiatives, exemplifying our dedication and underscoring our principles as a trusted service provider.
When you opt for DePalma Roofing & Construction, you're entrusting your roofing needs to a proficient, committed, and community-oriented contractor in Dover, PA. Experience the DePalma difference – reach out to us today and let us redefine your expectations with our superior offerings.
Benefits of Opting for a Local Roofing Expert in Dover, PA
Selecting DePalma Roofing & Construction, a renowned local roofing contractor in Dover, PA, offers several distinct advantages rooted in our profound familiarity with the Dover environment and its architectural nuances. Having served the Dover region for years, we've garnered invaluable insights into the unique climatic challenges roofs face here, from intense summer heatwaves to the occasional gusty storms. This in-depth local knowledge allows us to suggest the most appropriate roofing strategies tailored for Dover's climate, guaranteeing optimal defense for your property.
Furthermore, our strategic location within Dover ensures we're just a stone's throw away when you need us. Be it an urgent repair after an unexpected weather event or scheduled maintenance, our crew can arrive at your doorstep without delay. This swift action not only averts further potential damages but also ensures your concerns are addressed promptly, giving you peace of mind.
Choosing DePalma Roofing & Construction isn't just about top-notch roofing services; it's about bolstering local enterprise and fortifying the Dover community. We aren't merely a business entity; we're part of the Dover fabric, deeply invested in its growth and well-being. Our ethos isn't limited to roofing excellence alone; it encompasses a vision of collective growth and prosperity for our beloved Dover.
In essence, by choosing us, you're opting for a neighborly touch, backed by expertise and a commitment to Dover's future.
Conewago
Detters Mill Rd
Dover
Pinchtown Rd
Shade Gap
Tall Oak Estates
Tower Village
Wandering Streams
Weigelstown
Connect with Dover's Leading Roofing Specialist
For all your roofing demands in Dover and the surrounding regions, DePalma Roofing & Construction stands ready to assist. Whether you're considering a brand-new roof installation, need urgent leak repairs, or are seeking regular maintenance, our seasoned and proficient team is on hand to offer the guidance and service you require. Recognizing the individual nature of each roofing task, we pledge to offer solutions meticulously crafted to meet your distinct needs.
Our extensive suite of roofing services equips us to manage projects spanning both residential and commercial realms, regardless of their scale. We invite you to initiate a conversation with us and delve into the specifics of your envisioned project. Our approachable team is ever-present to tackle any queries you might entertain and to furnish you with an in-depth estimate. Opt for DePalma Roofing & Construction, Dover's trusted local roofing expert, to experience unparalleled craftsmanship and dependability.
10 or 25 YEAR 'PEACE OF MIND' WORKMANSHIP GUARANTEE
With every roof we install you are covered by GAF's 10 or 25 year workmanship guarantee. That means if a shingle cap blows off in a windstorm, or a leak forms, or anything roof related for that matter – we will promptly replace and/or repair the problem at no cost to you.