Roof Repair You Can Trust
Your Trusted Provider of Comprehensive Commercial Roofing Solutions in PA
Navigating the complexities of commercial roofing demands expert knowledge, precise execution, and a dedication to excellence. DePalma Construction, Inc., established in 1999, brings all this and more to your commercial roofing project.
From our beginnings during the construction boom of the early 2000s, we rapidly built our reputation as a reliable partner for local contractors, specializing in new construction roofing. Over time, we've evolved to meet changing market needs, broadening our focus to deliver superior re-roofing and repair services directly to property owners.
Uncompromising on quality, we select top-of-the-line materials from leading manufacturers, including GAF, Mastic, and Plygem. This commitment is reflected in our recognition on national platforms, including TLC's "Extreme Home Makeover" and as the exclusive roofer for the annually constructed homes by Milton Hershey schools. Despite these accolades, our true measure of success lies in the satisfaction of our clients, achieved through meticulous attention to detail and unwavering customer service.
With DePalma Construction, Inc., you're not just choosing a commercial roofing service – you're partnering with a team dedicated to delivering excellent craftsmanship tailored to your specific needs.
Our Commercial Roofing Services: Comprehensive Solutions for Your Business
At DePalma Construction, Inc., we provide a broad range of commercial roofing services to meet your every need. Whether you're constructing a new building, considering a roof replacement, or in need of a repair, we have the skills and expertise to deliver high-quality results. Our comprehensive services include:
Installation
Launching a new commercial project? Our expert team is proficient in installing a variety of roofing types suitable for commercial buildings. Our installation process starts with a thorough consultation to understand your specific needs, followed by the selection of top-quality materials from leading manufacturers. Every installation is carried out with meticulous care to ensure longevity and functionality.
Repair
Commercial roofs often face rigorous demands, leading to wear and tear over time. If your roof has a leak or damage from extreme weather, our team is ready to provide quick, effective repairs. We assess the extent of the damage, propose the most efficient solution, and carry out the repair with minimal disruption to your business operations.
Replacement
When repairs aren't enough, or your roof has reached the end of its lifespan, a replacement might be necessary. Our skilled professionals will guide you through the process, helping you select the best roofing system for your building and ensuring the replacement is carried out smoothly and efficiently.
Inspection
Regular roof inspections are essential to catch potential problems before they escalate. Our detailed inspection service includes a comprehensive check of your roof's condition, identifying any areas of concern and proposing preventative measures to maintain its integrity.
Maintenance
A well-maintained roof can last longer and perform better. We offer maintenance programs designed to extend your roof's lifespan and prevent costly future repairs. Our maintenance services include routine inspections, cleaning, and minor repairs, all aimed at keeping your commercial roof in optimal condition.
When you choose DePalma Construction, Inc., for your commercial roofing needs, you can expect a professional, customer-centric approach, backed by the industry's best practices and a commitment to your satisfaction.
Why DePalma Construction is Your Go-To Choice for Commercial Roofing Needs
Selecting a roofing contractor for your commercial project is crucial, and we, at DePalma Construction, appreciate the magnitude of this decision. We're proud to be the premier choice for commercial roofing across Harrisburg, York, Mechanicsburg, Dover, Enola, Camp Hill, and Gettysburg, PA. Here's why businesses trust us for their roofing requirements:
Incomparable Experience
Founded in 1999, our company boasts over two decades of industry experience. This vast exposure allows us to tackle a diverse range of roofing projects with assured confidence and skill. Whether it's installing a new roof, performing complex repairs, or undertaking total replacements, our past experiences have equipped us to consistently deliver superior results.
Commitment to Quality Materials
A robust, long-lasting roof begins with superior-grade materials, and we're committed to using only the best. Our partnership with leading manufacturers like GAF, Mastic, and Plygem ensures our clients access to high-quality materials suitable for their specific needs and budgets, without any compromise on the quality or durability of the final product.
Highly-Trained Professionals
We take immense pride in our team of highly trained professionals. Each team member is committed to honing their skills and keeping themselves updated with the latest industry advancements and best practices. When you choose DePalma Construction, you're choosing a team of experts dedicated to their craft and your project's success.
Unmatched Customer-Centric Approach
Your satisfaction is our main goal at DePalma Construction. We dedicate ourselves to maintaining open lines of communication and promoting transparency at every project stage. Our philosophy revolves around building a strong partnership with our clients, grounded in mutual trust, respect, and shared success.
Proven Track Record
Over the years, we have established a strong reputation in the roofing and construction business, which is reflected in the positive feedback we consistently receive from our satisfied clients. This reaffirms our commitment to providing high-quality roofing solutions that stand the test of time.
Community Engagement
Our bond with the community goes beyond just business. We are proud to be connected with the Milton Hershey schools, where we have been the exclusive roofer for their annual house-building project for the past three years. Our commitment to the community showcases our integrity and value as a service provider.
When you choose DePalma Construction for your commercial roofing needs, you're choosing reliability, quality, and a customer-centric approach that sets us apart.
Types of Commercial Roofs DePalma Construction Handles
We handle a diverse range of commercial roofing types and materials, each with its own unique benefits and applications. Below, we detail some of the most common ones:
A popular choice for commercial buildings, flat roofs are cost-effective, providing extra space for equipment like HVAC systems or even a rooftop garden. We offer various flat roofing options, ensuring durability and watertight protection for your commercial property.
Low-sloped roofs are common in commercial properties as they efficiently drain water while offering a stylish aesthetic. Our team is skilled in installing and maintaining low-sloped roofs, guaranteeing a balance between functionality and design.
EPDM (Ethylene Propylene Diene Monomer) is a type of rubber roofing material known for its durability and resilience. It's an excellent choice for large-sized roofs due to its relatively light weight, resistance to UV radiation, and capacity to withstand extreme weather conditions.
Thermoplastic Olefin (TPO) is a single-ply roofing material becoming increasingly popular for its energy efficiency. Its white reflective surface can help reduce heat gain, potentially lowering cooling costs during warm seasons.
Metal roofs offer longevity, durability, and design flexibility. They are fire-resistant, withstand high winds, and can be energy efficient, making them a popular choice for various commercial applications.
BUR systems have been in use for over a century and involve alternating layers of bitumen and reinforcing fabrics to create a finished membrane. They offer excellent waterproofing and UV protection, making them a reliable choice for many commercial buildings.
Polyvinyl Chloride (PVC) roofing is a reliable choice for commercial buildings due to its strength, durability, and resistance to moisture, fire, wind, and chemicals. It's an environmentally friendly option, as it's recyclable at the end of its lifespan.
Maintaining Your Commercial Roof
Maintaining your commercial roof is crucial to extend its lifespan and ensure it continues to protect your building effectively. Here are some helpful tips and insights on maintenance, inspection, and repair:
Routine Inspections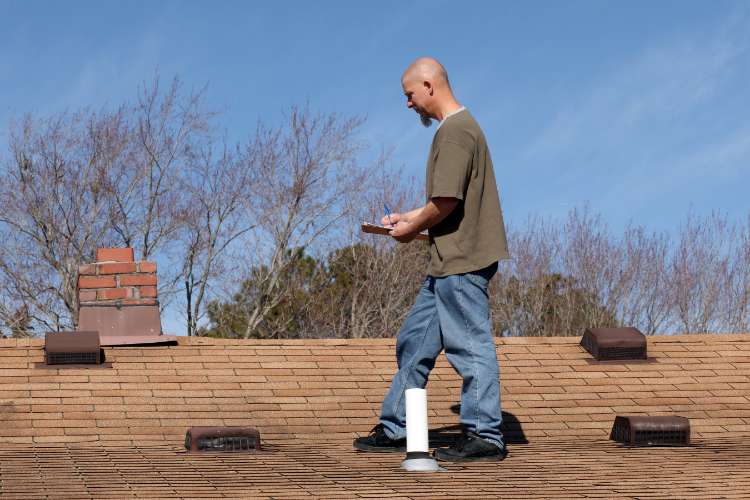 The cornerstone of a successful maintenance plan is routine inspections. Regularly scheduled check-ups can identify minor issues before they develop into significant problems, saving you time and money in the long run. DePalma Construction, Inc. highly recommends having your commercial roof inspected at least twice a year, as well as following any major weather events. An inspection in the spring can catch any damage that occurred over the winter, and a fall inspection can prepare your roof for the colder months ahead.
In addition, it's beneficial to conduct an inspection after severe weather, such as heavy rain, wind, or hailstorms. These weather events can cause immediate and noticeable damage, such as punctures or loosened materials, but they can also result in subtle, hidden damage that might not manifest until weeks or months later.
A clean roof is a healthier roof. Keeping your roof clear of debris is crucial, as accumulated leaves, branches, or other materials can trap moisture against the roof's surface. Over time, this trapped moisture can lead to leaks, mold growth, or structural damage.
Cleaning your roof is not just about aesthetics; it's about prevention and preservation. Regular cleaning can help ensure that your drainage systems remain clear and functional, that pests are discouraged from nesting, and that any potential issues, like growing cracks or weak spots, can be identified early and addressed promptly.
Cleanliness
Drainage System Maintenance
A well-maintained drainage system is essential to keep water flowing off your roof. Over time, drains can become blocked with debris, resulting in water pooling on your roof's surface. Standing water can gradually damage the roof, causing leaks and deterioration of roofing materials.
Regular maintenance and cleaning of your drainage system can prevent such issues. Ensure your gutters, downspouts, and internal drains are clear and working properly. Consider professional gutter cleaning services if necessary, especially before and after the rainy season.
Prompt repairs are key to maintaining the integrity of your roof. If a routine inspection reveals damage or potential problem areas, it's crucial to address these issues immediately. Minor problems can rapidly become major ones if ignored or left unresolved.
Remember, a small leak or a bit of damage may seem insignificant, but it can lead to bigger issues like water damage, structural issues, and even the need for a complete roof replacement if not addressed in a timely manner. Therefore, always take immediate action when a problem is identified.
Address Repairs Promptly
Watch for Signs of Trouble
Be vigilant for signs of roofing problems. These can include interior signs such as leaks, water stains on your ceilings or walls, or the presence of mold. Externally, look out for loose or damaged roofing material, standing water, or deteriorated flashing.
Noticing these signs early and addressing them promptly can help prevent larger issues from developing. However, interpreting these signs can be complicated for the untrained eye, and some problems might not have any visible signs until it's too late. That's where the role of professional roofers like DePalma Construction becomes invaluable.
Despite your best efforts, certain aspects of roof maintenance are best left to professionals. Tasks such as repairing flashing, replacing damaged sections, or any job requiring a comprehensive understanding of roofing systems should be undertaken by seasoned experts.
Professional maintenance goes beyond fixing visible issues; it involves a thorough examination of your roofing system, identifying potential problems, and addressing them before they escalate. At DePalma Construction, we offer tailored maintenance plans that meet your specific needs, ensuring your commercial roof remains in top condition all year round.
Professional Maintenance
Connect With Us
Connecting with DePalma Construction Inc. is a straightforward process. For comprehensive information about commercial roofing services, detailed inquiries, or to arrange a no-obligation estimate, prospective clients are encouraged to reach out. The DePalma team is readily available and eager to address all queries, ensuring a streamlined, efficient experience from the initial consultation through to project completion.
10 or 25 YEAR 'PEACE OF MIND' WORKMANSHIP GUARANTEE
With every roof we install you are covered by GAF's 10 or 25 year workmanship guarantee. That means if a shingle cap blows off in a windstorm, or a leak forms, or anything roof related for that matter – we will promptly replace and/or repair the problem at no cost to you.