Roof Repair You Can Trust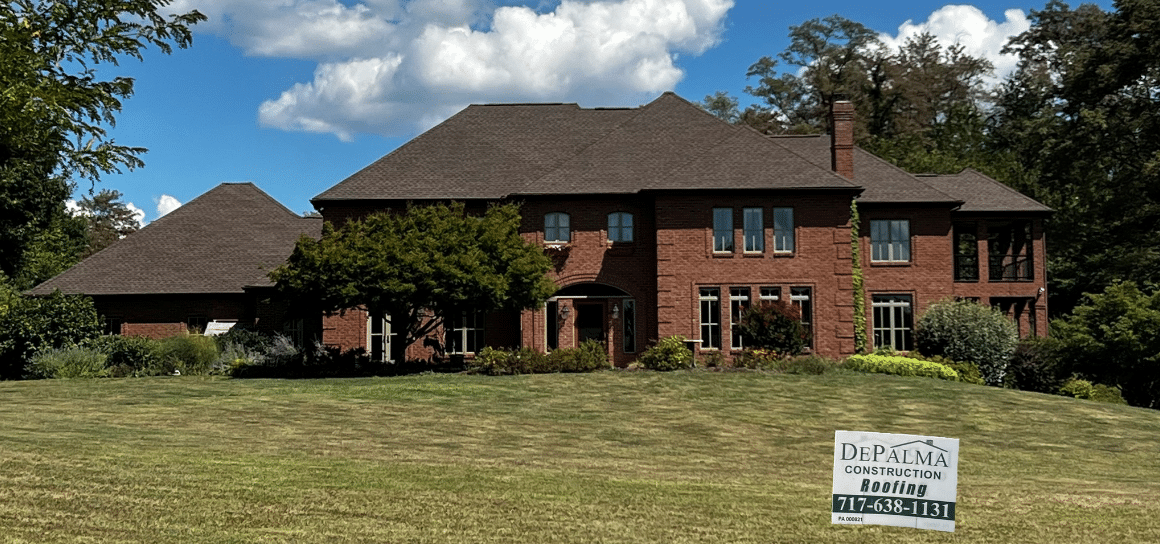 Your Trusted Roofing Contractor In York, PA
DePalma Roofing & Construction takes pride in being a leading roofing contractor York, PA residents have come to know and trust, providing exceptional service, superior craftsmanship, and personalized attention to all clients. Our expertise covers both residential and commercial roofing projects, from minor repairs to comprehensive installations.
Our team of skilled roofers has been serving the York community for years, consistently delivering top-notch results. Fully licensed and insured, DePalma Roofing & Construction confidently offers warranties on all completed work. Our professionals are equipped to handle a wide range of projects, including leak repairs, shingle replacements, skylight installations, and more.
We recognize that every roofing project has its unique requirements. That's why our team takes the time to listen to your concerns and devise a tailored plan that aligns with your goals. By maintaining a strong commitment to quality, affordability, and customer satisfaction, we ensure that our services consistently exceed expectations.
When you choose DePalma Roofing & Construction, you can rest assured that your roofing project is in capable hands. Reach out to us today for more information about our top-rated roofing services and to receive a free, no-obligation quote. We eagerly await the opportunity to address your roofing needs with our signature expertise and professionalism.
GAF Top President's Club Roofer
Roofing Replacement
DePalma Roofing & Construction delivers exceptional Roof Replacement solutions for home and business owners in the York, PA community. With a team of skilled Roofing Specialists, we are equipped to handle any roofing project, from swapping out a few shingles to executing a comprehensive roof makeover.
Regardless of the Roof Replacement service you require, we'll craft a personalized plan that aligns with your budget and schedule. Under the guidance of our expert Roofers, most residential Roof Transformation tasks are wrapped up within a single day. Plus, we take pride in our thorough clean-up process, ensuring you won't have to stress over leftover materials or mess. Not many contractors can make that promise!
Roof Repairs
Turn to DePalma Roofing & Construction for all your Roof Repair needs. Our highly skilled Roofers have the expertise and experience to assess your Roof's health and propose the most effective solutions. Our diverse Roof Repair services include fixing damaged shingles, addressing faulty seals or cracked tiles, and ensuring proper Roof ventilation.
No repair challenge is too big or small for our dedicated roofing team. We guarantee exceptional craftsmanship and unparalleled customer service at all times.
For the ultimate Roofing Contractor experience in York, PA, DePalma Roofing & Construction is the answer! Contact us today to begin your journey.
Commercial Roofing Services
DePalma Roofing & Construction specializes in Roofing services for businesses. We know that working on larger buildings can be challenging, but our experienced Roofers have the skills to handle it.
Whether your building needs a Roof repair, replacement, or maintenance, our team is here to help. We offer a wide range of Roofing services for commercial properties, including inspecting and assessing Roofs, installing or replacing Roofs, and keeping them in good shape.
Our team is dedicated to providing top-notch customer service, quality work, and affordable prices. Contact us today to learn more about our commercial Roofing services and get a free quote.
Gutter Installation (Spouting)
Protecting your property from water damage is crucial, and choosing a seamless gutter system is a smart decision. DePalma Roofing & Construction excels in installing seamless gutters for homes and businesses in York, PA.
We provide custom-made 5″ and 6″ seamless gutters, crafted on-site to ensure an ideal fit for your building. Our experts will collaborate with you to select the perfect size, shape, and color for your gutters, guaranteeing they perform efficiently while also complementing your property's appearance.
Seamless gutters offer a significant advantage over traditional systems by removing unsightly seams and leaks that can harm your foundation. Our tailor-made seamless gutters are engineered to channel water away from your property effectively, offering lasting protection and peace of mind.
For a dependable gutter installation service in York, PA, DePalma Roofing & Construction is the go-to choice. Reach out to us today to arrange a consultation and discover the benefits of seamless gutter installation for your property. Our dedicated team is committed to delivering exceptional service and top-quality workmanship.
Gutter Guards / Leaf Guards
Clean and debris-free gutters are crucial to avoid water damage to your property. That's why DePalma Roofing & Construction offers various gutter guard options to safeguard your gutters from leaves, twigs, and other obstructions.
Our gutter protection systems encompass leaf filters and leaf guards, designed to integrate seamlessly with your existing gutters. These innovative products ensure your gutters remain unclogged, allowing water to flow away from your property effectively.
By choosing our gutter guards, you can forget about the inconvenience of climbing a ladder to clean your gutters each year. We use top-quality materials for our products, ensuring you receive long-lasting gutter protection.
Don't let blocked gutters threaten your property's safety. Contact DePalma Roofing & Construction today to discover more about our gutter guard solutions and how they can benefit your home or business.
Siding Installation
If you're seeking a fresh appearance for your home or business, consider a siding installation by DePalma Roofing & Construction. As a seasoned siding installer in York, PA, we present an array of options tailored to your taste and budget.
We provide siding replacement for residential and commercial properties, using only top-grade materials like vinyl siding for durability and long-lasting performance. Our team will collaborate with you to identify the ideal siding solution for your property, whether you desire a classic appeal or a contemporary vibe.
At DePalma Roofing & Construction, we take pride in delivering outstanding customer service and superior craftsmanship. We recognize that your property is a substantial investment, so we ensure that your siding installation is completed flawlessly the first time. Our fully licensed and insured team offers peace of mind, knowing that your investment is well-protected.
Accomac
Albemarle
Aslan Heights
Autumn Woods
Avenues
Bannister Street
Belcher Tree Service
Bentley Croft
Brandywine Crossings
Brandywine/Stillmeadow
Brandywine Woods
Briar Bend
Bridgewater
Brittany
Brookstone
Butcher's Court
Chambers Ridge
Chapelwood Estates
Chestnut Run
Churchill Manor
Colonial Heights
Colony Park
Conewago
Country Club
Cousler Park
Crestwood East
Dill St/Robins Circle
Druck/Range/Deerhil/Trout
East College Avenue
East of the Codo
E Butter – Cloverleaf
Elmwood North
Emigsville
E Philadelphia St
Evergreen
Farquhar Estates
Fireside
Grantley
Greenbriar
Gwen Dr
Haines Acres
Heritage Hills
Highland Manor
Hillcrest
Hillcroft
Hill Garden
Hollywood Heights
Honeyrun
Hunt Club
Ivy Greens
Jackson Heights
King Street
Kreutz Creek Road
Lake Raod &hill Road
Lake Redman
Laurel Estates
Leaders Heights
Little Creek Farms
Lower Windsor
Lynbrook
MacGregor Downs
Mill Creek
Mt Pisgah/Sam Lewis
Mt. Pisgah, West
Mt. Rose Ave.
N Beaver – N Susquehanna
New Salem
Newton Square
North East
North West Fairgrounds
North York
N Salem-SevenValleys
Oak Rd
Old Leader Farm
Ore Valley
Parkway
Peacefields
Penn Oaks
Penn State Estates
Pleasureville
Poplars
Prospect St
Queenswood
Rainbow Circle
Raintree
Regency/Cheltenham
Ridings
Rosebrook II
Rosenmiller Farms
Roundtown
Royal Square
Seneca Ridge
Sentry Woods
Shiloh
Skyline/Mountain View
Spangler Meadows
Springdale
Springettsbury
Springetts Oaks
Spring Garden Township
Spring Meadow
Springwood
Spry
Stonybrook
Strathcona Hills
Summerset Meadows
The Glades
Thistle Downs
Thomasville Pa
Thornbridge
Trimmer
Twin Pines
Valley View/Villa Green
Vinmar
Washington Square
West Princess
White Oak Manor
Windsor Park
Windsor Township
Wire Road
Woodland View
Woodmont
Wyndham Hill S
Wyndham Hills – WHPOA
Top Roofing Contractor In York, PA
At DePalma Roofing & Construction, we take pride in being a top roofing contractor in York, PA. Our reputation for delivering exceptional service and workmanship has been built on our commitment to surpassing customer expectations in every project.
Our skilled team of professionals understands the significance of a well-maintained roof. A properly installed and maintained roof protects your property from water damage, boosts energy efficiency, and elevates the overall appearance of your home or business.
As a premier roofing contractor in York, PA, we offer a comprehensive range of roofing services to accommodate your requirements, including installation, repair, and maintenance. We exclusively use top-quality materials and cutting-edge equipment to guarantee every job is completed to the highest standard.
Choosing a roofing contractor can seem challenging, but we're confident that our expertise and experience make us the ideal choice for your roofing needs. Contact us today to discover more about our services and how we can assist you with your roofing requirements in York.
10 or 25 YEAR 'PEACE OF MIND' WORKMANSHIP GUARANTEE
With every roof we install you are covered by GAF's 10 or 25 year workmanship guarantee. That means if a shingle cap blows off in a windstorm, or a leak forms, or anything roof related for that matter – we will promptly replace and/or repair the problem at no cost to you.